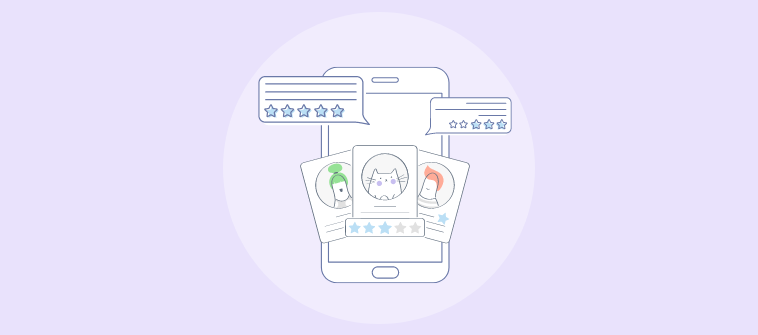 Being blindsided by customer feedback has never worked out well for any business. 
You may think that the customers are satisfied with your offerings, but there's no way of knowing this for certain until the number starts rolling in. And then, it's too late to act on it!
Customer feedback is integral to any marketing strategy. In its absence, you cannot gauge how effective your services are and what impact they have on the users. If the question- "Is my business collecting customer feedback well enough?" keeps you up at night, you might want to rethink your feedback collection approach.
One of the most powerful tools to employ in your customer feedback loop is popup surveys on website. These surveys help you collect feedback while the customers are already engaged. 
But how do you ensure that the popups end up being a nuisance by interfering with the user's experience?
Don't worry! We have got you covered with the best practices for generating customer insights using popup surveys. These tips will help you create highly engaging popups that grasp the attention of your visitors and help you capture their valuable opinion. We also highlight how a reliable popup tool can enhance your customer feedback collection efforts.
What Are Popup Surveys?

Popup surveys or on-site surveys help businesses engage with customers while they are browsing the website or using the application. They help collect vital information that can be leveraged to improve the user experience. 
Along with helping you capture relevant feedback, these popups also make for better engagement. They save you from wasting time and effort on the wrong areas of focus and ensure that you act on the actual opinion of your customers. 
You can control how and when the customer feedback popup surveys are displayed, making them much less intrusive. Moreover, popup surveys can be used to deliver customized offers in exchange for feedback, demonstrating that you place great value in the customer's opinion.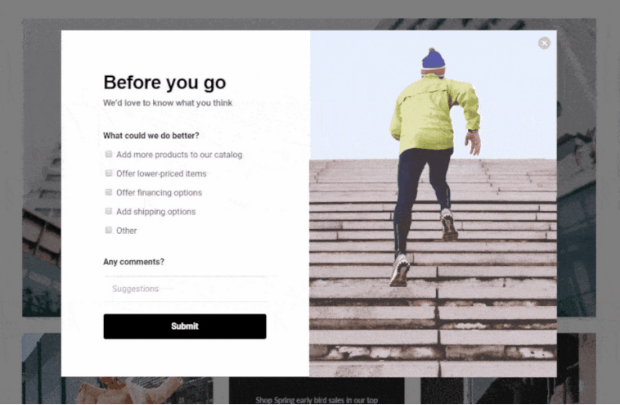 The type of customer feedback you collect will depend on your goals – are you trying to solicit testimonials or looking to find out why a visitor quickly abandons a page? It will also depend on how the visitor is engaging with your site – did they leave after putting an item in their cart, or did they spend a significant amount of time reading your blog? Common survey topics include:
Experience rating

– How did we do?

Feedback

– Did you find what you're looking for on our site?

Testimonials

– Would you leave us a review for a product/service?

Readiness to buy

– Are you ready to purchase? Why or why not?

Site improvements

– What could we do better?
These types of surveys can help you better understand visitor behavior, preferences, and needs and ultimately help direct your strategies to improve customer experience.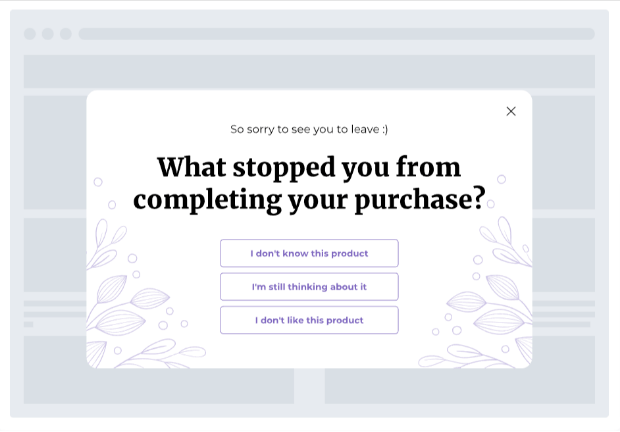 Read More: 

How to Create Popup Surveys for Your Website
Why Use Popups Surveys for Collecting Customer Feedback?
There isn't any room for guesswork when it comes to customer feedback.
You're either hitting the right chord or not! 
You need to know exactly how the customers perceive your business and whether or not they are satisfied with your services. And who would be a better source for this information than the customers themselves?
Collecting and incorporating customer feedback is vital for business growth. There are several means for collecting this information from customers, including surveys, live chat, social media, etc. Popup surveys on websites distinctively stand out in this list, owing to their unobtrusive nature and extensive customizability. They boost user engagement and help you garner actionable insights for your business. 
Here are some of the most significant benefits of including popup surveys in your customer service strategy:
These surveys offer quick results and help you capture feedback instantly, enabling you to act on it without delay. 

Surveys can help you understand the actual impression of your business on the customers, which analytical data fails to do.

These surveys help you engage with customers more effectively, leading to improved satisfaction and retention. 

You can leverage the insights gathered from customer surveys to improve product development, enhance customer service and make data-backed business decisions. 

Display these popups to visitors that are ready to engage or already engaged to ensure that you reach out to the right people to obtain feedback.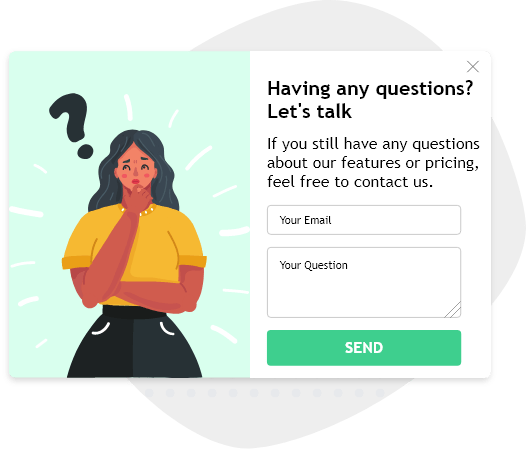 Tips For Collecting Customer Feedback Using Popups Surveys
According to Microsoft, 89% of customers wish to provide their feedback.
This makes it clear that customers want to share their opinion and feedback. All you need to do is offer them a convenient way to do so.
Popup surveys can be highly effective for businesses to capture customer feedback. However, you must encourage customers to fill out these surveys, which requires a well-optimized strategy. The success of your popups can be ensured by employing the following best practices:
1. Keep It Short
No one wants to take long and tedious surveys. This is why you must be very selective about the questions you include in the website pop-up survey. Keep them direct, clear, and limited. The surveys should be short and sweet, ideally no longer than three questions. Of course, your purpose for collecting customer feedback and the type of information you're requesting will dictate the survey length.
2. Ask the Right Type of Questions
While you can use a simple yes/no, multiple-choice, or other radio button format, you also have the option to create open-ended questions to engage your website visitors and encourage them to provide more feedback. Pick the right type of survey questions based on the audience you are targeting. Determine if you wish to use single or multi-step popups based on the type of feedback that you are looking to collect. 
Read More: 

11 High-Converting Popup Survey Design Examples & Questions for Feedback
3. Calculate Your Sample Size 
Determine the accurate sample size for your popup surveys. To do this, you must know the audience you wish to seek feedback from and set a margin of error that would be acceptable for you. Once you have the population size and a risk margin, you can determine the sample size for your feedback pop-up surveys. Also, take into account sampling errors, response rate, and statistical accuracy.
For instance, as seen in the image below:
A population size of 10,000 with a 2% margin of error and a confidence level of 95% would have a required sample size of 1937. To get these respondents, you need to send out 9685 invites, assuming the response rate is 20%.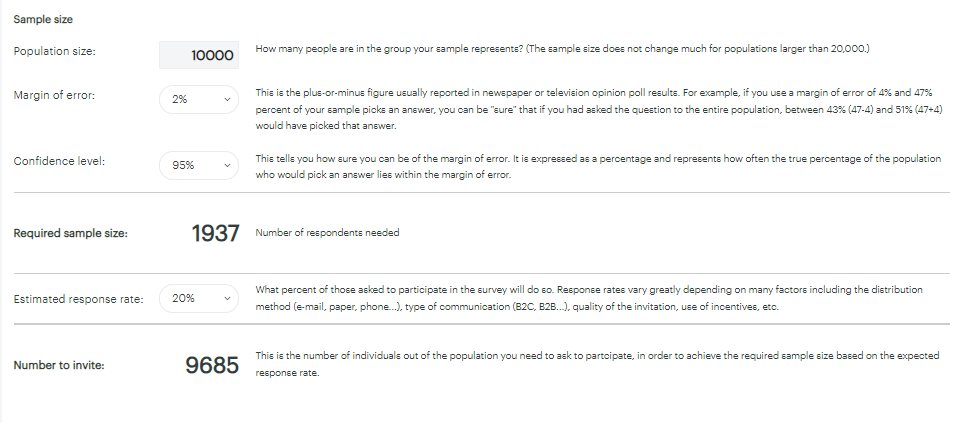 (Source)
4. A/B Test Surveys 
Optimize your surveys with A/B split tests. These tests can help you analyze what works well with your customers. Split tests the formats, texts, CTAs, colors, triggers, offers, etc., to find out the most suitable way of obtaining feedback from your website visitors. A powerful survey popup tool such as Picreel can help you keep track of various campaigns with ease, so you can continuously improve performance.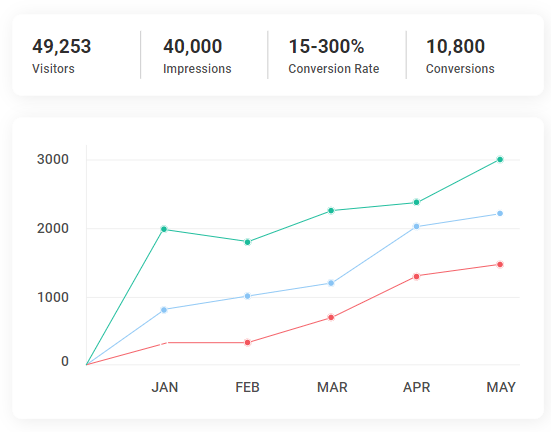 (Source)
Read More: 

Improve Conversion Rates by A/B Testing : [Step-By-Step Explanation]
5. Display at the Right Moment
Ensure that the popups are displayed when the visitors are highly engaged, not sooner or later. Find out the best time to target your popup survey to increase the chances of users engaging with it. For instance, as evident from the graph below, users engage more with the bottom of the page if they scroll down below the first fold. Therefore, you can set up your popups to be displayed if the visitor has reached a specific section on the website.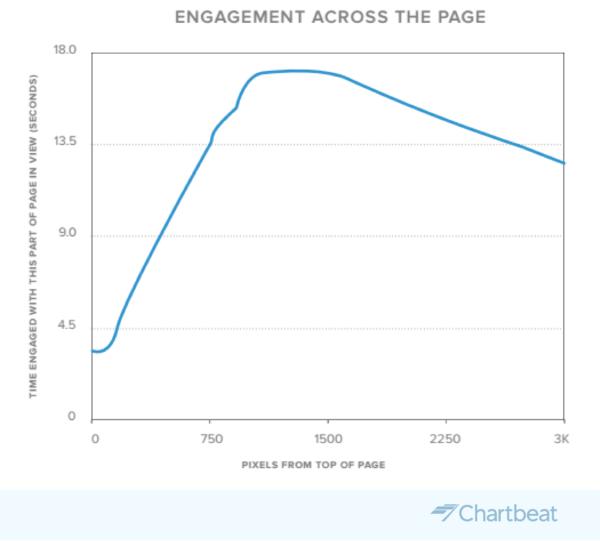 (Source)
6. Avoid Double-Barreled Questions 
To improve the respondent experience, you must keep the popup surveys on website free of double-barreled or double-direct questions. These questions involve asking the user's feedback on two issues, leaving room for ineffective responses. For instance, asking a question such as "Are you satisfied with the customer service and the quality of our product?" is an inefficient way of seeking feedback since the customer only has the chance to provide a single answer to two separate questions. 
7. Target Effectively 
Precise targeting lets you show the right survey, to the right visitor, at the right time. For example, you can display a survey to returning visitors only or trigger a campaign so that the survey is visible once the visitor has viewed more than two pages of your website. This makes sure that the visitor is already engaged and will be more likely to fill out the survey. You can also use an advanced survey software that lets you track visitors' scroll movements in real-time and serve up your best offers on exit intent.
8. Incentivize Surveys
Offering something of value in exchange for customer feedback sweetens the deal and encourages higher conversions. For example, "Take a short survey and get free shipping on your next order!" or, "Tell us what you think of our new website and be entered to win a $50 gift card!" By offering such lucrative incentives, you can ensure that more customers fill out the feedback surveys. 
9. Use a Powerful Design 
The best survey pop-ups use a combination of attention-grabbing imagery (even animated GIFs!), an engaging call to action button, and a look and feel that is consistent with your brand. While a basic pop-up may get the job done, thoughtful design can turn it into a high converting machine! Devote time to creating an attractive popup by customizing the colors and fonts to match your overall branding. Refrain from using hard-to-reach close and cancel buttons in your popups since this can risk the overall user experience. 
Read More: 

How to Create a Website Exit Survey?
10. Create an Engaging Copy
How you word your survey and offer can significantly impact conversions. You must avoid using jargon in your survey and keep them simple. Moreover, using certain power words can trigger emotional or psychological responses from the users. Here are a few examples:
Greed Words: Words that make it seem like something is rare, valuable, scarce (bargain, gift, sale).

Curiosity Words: Words that naturally pique an interest (become an insider, sneak peek, invitation only).

Sloth Words: Words that make your offer seem effortless (instant, easy, painless).

Lust Words: Words that make visitors crave your offer (compelling, mind-blowing, tantalizing).
Let's now look at some popup survey examples from businesses that have hit the nail on the head.
Sephora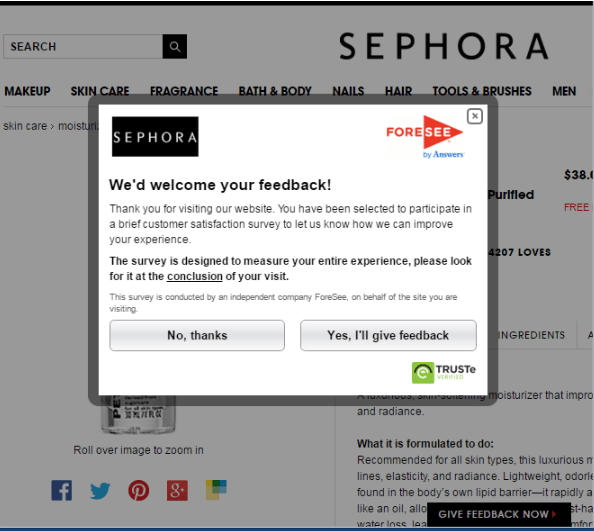 (Source)
Sephora displays a popup survey to its customers, requesting them to rate their overall experience with the company. 
Chanty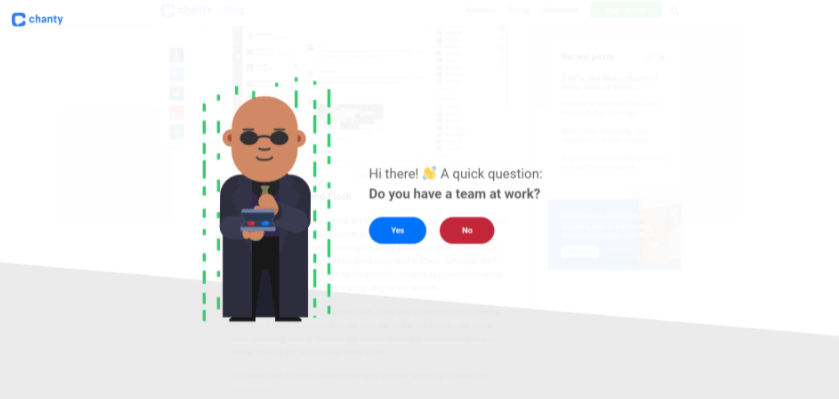 (Source)
Chanty uses a simple Yes/No popup survey for collecting feedback quickly.  
Hyatt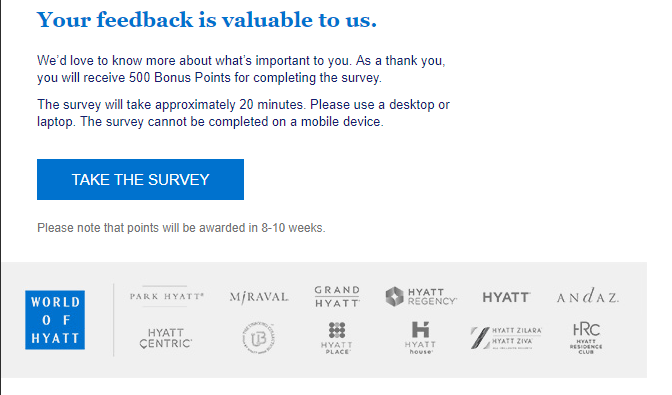 (Source)
Hyatt offers its customers 500 bonus points for filling out the feedback survey. 
How Picreel Helps You Use Popups for Customer Feedback
Picreel is an exit-intent popup survey tool that can help you gain valuable insights by using a precisely targeted form to collect customer feedback from your website visitors. 
Use it to survey a specific group of visitors and customize your design with different answer types, colors, call-to-actions, and questions depending on your conversion goals. The survey data is collected and delivered to your integrated CRM or marketing automation platform in real-time.
Here are some features of Picreel that make it a highly effective customer feedback software:
It does not require HTML or CSS knowledge. You can simply copy and paste the code to add the surveys to your website. 

Choose from a range of pre-built

popup survey templates

to get started instantly. 

Use advanced targeting using referral source, metadata, location, etc. 

The

feedback tool

offers extensive customization options, allowing you to modify the font, colors, etc. 

Create responsive popup surveys that are optimized for all devices, including desktops, tablets, and smartphones.

Optimize your popups using A/B analytics and in-built performance tracking.
Watch this quick video to further understand how Picreel can maximize your conversion rate:
Improve your Conversion Rate Optimization Strategy With Popup Surveys
"The customer's perception is your reality." – Kate Zabriskie
What really matters is how your services come across to the end consumers. Do they feel satisfied with your offerings? Is there room for improvement in your products or services that you are currently unaware of? 
There are plenty of questions that can be answered through customer feedback popup surveys on website. This information can help you improve your products and services or optimize the overall customer experience based on valuable insights. 
The long-term growth of your business depends on customer satisfaction. Use a powerful website survey tool such as Picreel to create engaging popup surveys that capture information while enhancing customer experiences. Use these surveys to identify your weak spots and work on them. This can help you delight your customers and pave the way for your business growth.  
Do you want instant 300% growth?
Picreel popups can get YOUR website 300% instant sales growth. See Case Studies.