Student Money Saver is a deal aggregator service that aims to help UK students live the life they want on a budget they can afford. Deals are broken down by categories including "Freebies," "Eating," "Making Money," "Travel" and more, and current deals include such promotions as a free Game of Thrones coloring book and 20% off a full-price item at retailer ASOS.
Student Money Saver approached Picreel with a single goal – to generate more leads by capitalizing on bounce rate traffic that would otherwise leave the site without converting. Through the implementation of Picreel's exit offers technology, the discount provider was able to generate 4,458 new leads in one month, in addition to achieving a conversion rate of 5.83%.
What is Picreel?
Picreel is a powerful conversion rate optimization software program that specializes in recovering abandoned visitors and turning them into customers. The program's technology brings about this result through the deployment of highly-targeted exit offers.
Picreel's overlay tool detects when prospective customers are close to leaving a site without converting, based on their mouse actions and other signals. Before website visitors can click the "Back" button, Picreel jumps into action, displaying a lightbox-style overlay pop-up with an offer that's specially designed to compel would-be deserters into completing a conversion action.
Why Exit Offers?
Today's website owners face a major challenge: our declining attention spans.
Never before have you had so little time to attract visitors, earn their attention and convince them to complete a conversion action, such as a newsletter sign-up or coupon download. Even fully-optimized sites must content with the fact that users form an opinion about a website in as little as 17ms.
If your visitors don't see what they want – or if your site doesn't convince them to take action immediately – they're likely to leave without ever taking the steps necessary to connect with your brand in the future.
And while there's no universally-appropriate solution to these challenges, light-box style overlay pop-up ads can be a powerful ally in the fight against lackluster visitor engagement.
When presented with the words "pop-up ad," most people have a knee-jerk negative reaction. However, there's a big difference between pop-up ads that are annoying and pop-up ads that are effective.
When executed correctly, there's no doubt that pop-up ads can improve your website's results. According to GetResponse, "You can realistically expect that adding a pop-up will increase your opt-in rate by 30-100%. That not hype: That's normal. There are reports of pop-ups increasing opt-in rates by 1000% or more, but those are unusually good results."
The key to deploying pop-ups effectively lies in the way they're launched. Pop-up ads that immediately load on a page or that cannot be closed easily frustrate users, leading to negative brand sentiment and decreased conversion rates.
Exit offers, on the other hand, are different. Instead of appearing on a page's load or after a predefined amount of time, these lightbox-style overlays only fire when the program driving them detects that a visitor is about to leave or that other specific behavior thresholds have been met.
How exactly does this happen?
Exit offers programs like Picreel take a number of different user action variables into consideration when determining what users are doing and whether or not they're in the process of leaving your website. Mouse movement and mouse velocity both play a role in these algorithms, as do a number of other engagement variables.
Taken together, these elements allow Picreel to present the most appealing offer at the most critical moment in the conversion process.
How Picreel Boosts Conversion Rates
Phrases like "exit offers" and "mouse velocity" may sound complex, but the actual process of installing and using Picreel is quite simple, as Student Money Saver discovered.
Once installed, Picreel users can take advantage of the program's flexible creation and editing system to create any of the following exit offers (among others):
Discounts
Coupon codes
Promotional codes
Newsletter opt-ins
Special offers
Guide or ebook downloads
Limited time offers
Picreel users can also save time with the software's pre-built templates, which feature attractive designs that are specially crafted to capture attention and drive conversions: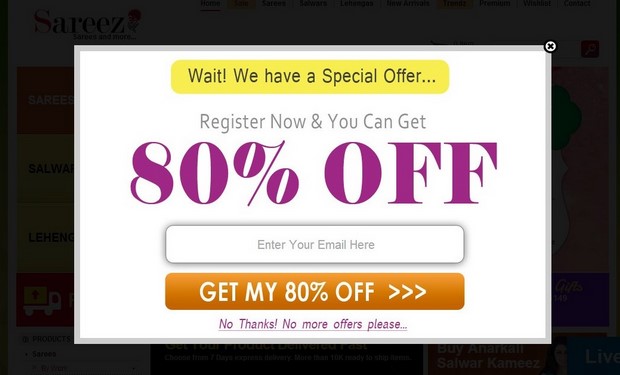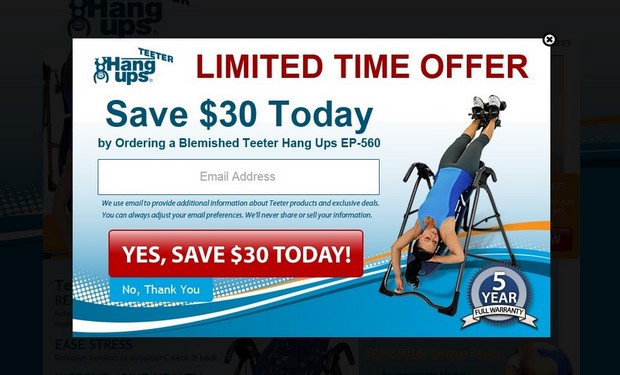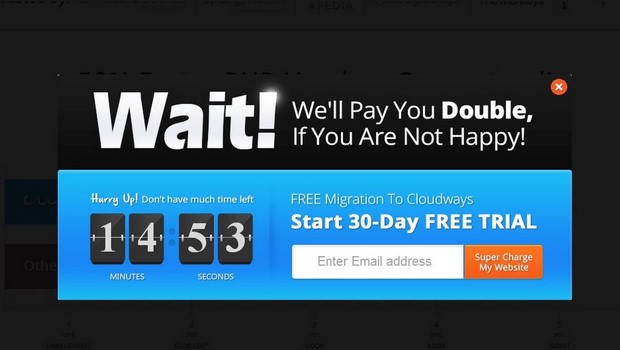 After selecting a template, users can customize the program's settings from its centralized dashboard. Specific selections that can be made include when the overlay will appear, which pages it will appear on and how it will be styled: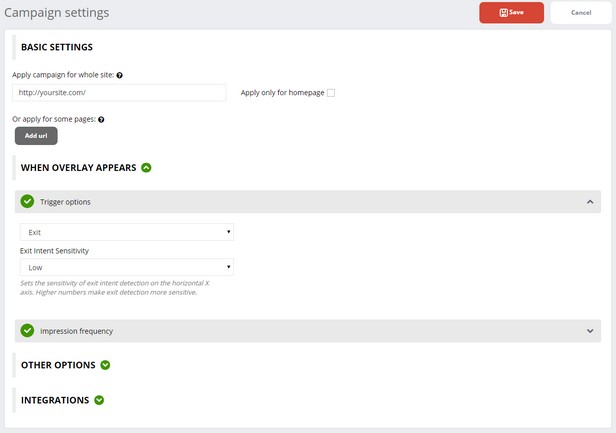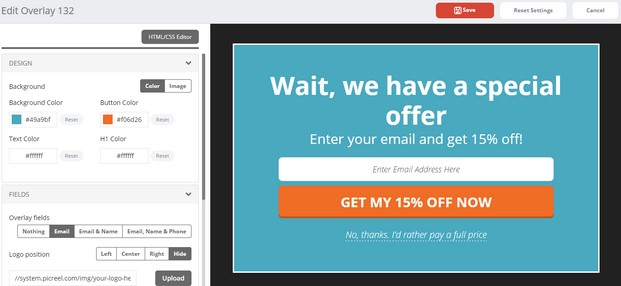 Installation of the program is equally user-friendly. If your site runs on WordPress, Picreel can be added via plugin with just a few clicks of the mouse. First, download the Picreel plugin. Then, from within the "Add Plugins" screen, select "Upload Plugin" and select the location of the downloaded plugin.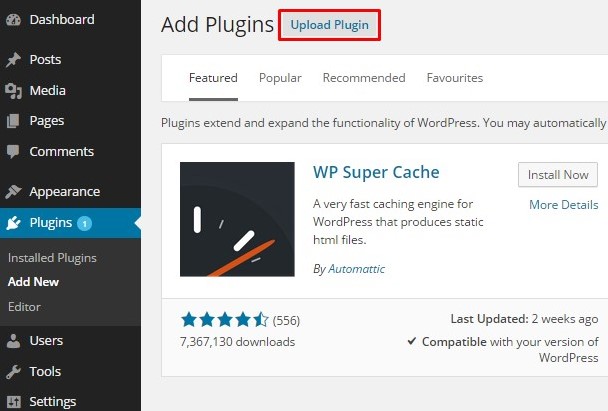 Activate the plugin, then select "Picreel" from the left-hand navigation bar. Enter your login information into the Picreel dashboard, and you're ready to get started!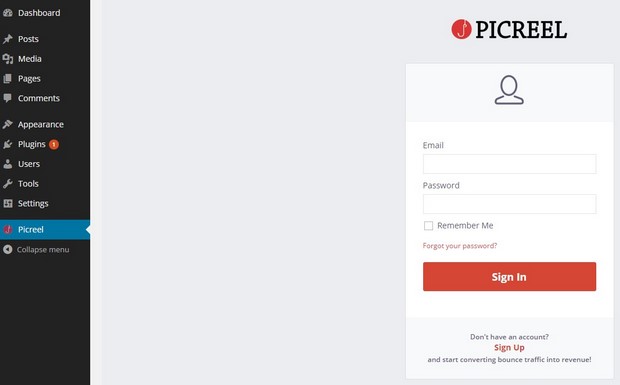 If your site runs on Shopify, Magento or Bigcommerce, Picreel offers custom plugins that make the installation process similarly easy. Those using other platforms can install the program by copying and pasting a web tracking snippet into their site's code.
Student Money Saver's Results
After going through the installation process described above, Student Money Saver took their standard home page: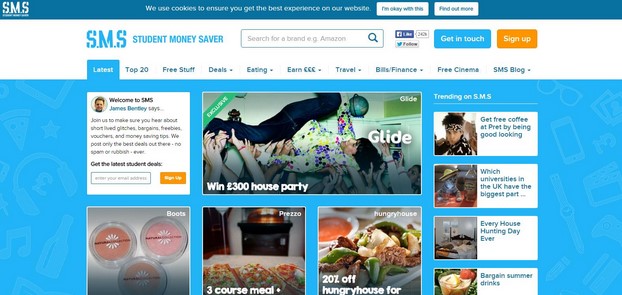 And created the following stylized exit overlay pop-up: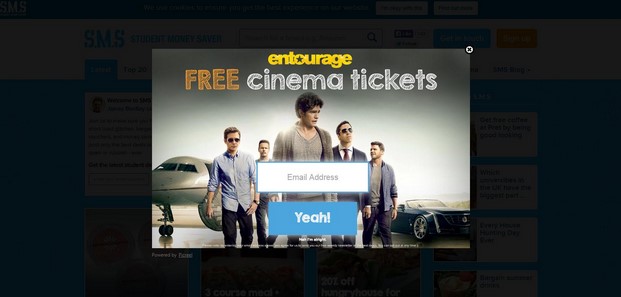 Throughout the company's one month trial, they were able to drive 76,504 impressions from 77,188 visitors, which resulted in 4,458 conversions, for a conversion rate of 5.83%. This represented a total of 183 new paying customers generated through the overlay ad in just one month.
The Bottom Line
What would an extra 183 paying customers do for your business? If your lifetime customer value was just $250, generating that many new customers would represent a revenue increase of nearly $50,000 – all for the five minutes it takes to install Picreel's exit offers technology.
Visitors are arriving on your site and leaving without taking action already. Using exit offers technology doesn't require the design and implementation of complex marketing campaigns. All you're doing is crafting a targeted message and putting it in front of the visitors your site already has, at a time when they're most likely to be receptive to it.
It's that simple, and the data proves how effective this approach can be.
Picreel customers report overlay pop-up conversion rates as high as 25%. To see how high yours can be, take advantage of Picreel's 30-day, no credit card required free trial.
Join Student Money Saver and other Picreel clients – including Hard Rock Cafe, the Waldorf Astoria, ING Direct and others – and start generating revenue from your bounce traffic today.
Do you want instant business growth?
Picreel customers get a 15-300% instant increase in inbound leads & conversions.