Solid copywriting and strong calls to action (CTAs) are critical components of a successful offer campaign. But today we'd like to talk more about using "power words" in pop-ups.
Long a copywriter's secret weapon for crafting irresistible content, we're going to give you a free cheat sheet of hundreds of power words, and show you how easy it is for anyone – yes, even non-writers and marketers! – to use these words to motivate your website visitors to take action.
What Are Power Words?
Simply put, power words subconsciously evoke an emotional or psychological response in the reader. The reader thinks they need what you've got. You reel them in with simple, albeit effective, words that speak to the power of Curiosity, Greed, Urgency, Trust/Logic, Simplicity, Exclusivity.
Let's dig into each category. In each section, we'll provide an overview, a list of words, and some specific examples of using a few of the words in a pop-up campaign.
Curiosity
Curiosity power words make readers pause and consider whether they know the answer to something. These words motivate readers to click or take action in order to satisfy their curiosity.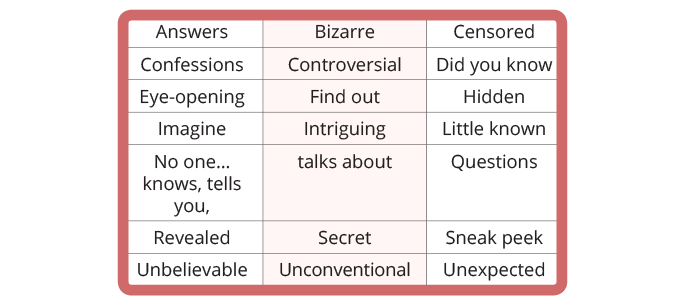 Answers
Bizarre
Censored
Confessions
Controversial
Did you know
Eye-opening
Find out
Hidden
Imagine
Intriguing
Little known
No one… knows, tells you, talks about
Questions
Revealed
Secret
Sneak peek
Unbelievable
Unconventional
Unexpected
You.. will never guess, won't believe, don't know, never knew, will wish
Now let's take a look at some examples.
"Get a sneak peek at our next webinar: Celebrity fitness expert reveals the little-known secret to weight loss, and you will never guess what it is!"
"Controversial case study: find out how one company increased conversions an unbelievable 500% by doing this one bizarre thing that CRO experts say you should NEVER do."
Greed
Greed power words convince readers that they need something, even if they don't really need it. When an offer sounds too good to pass up, readers can't resist taking advantage of a great deal.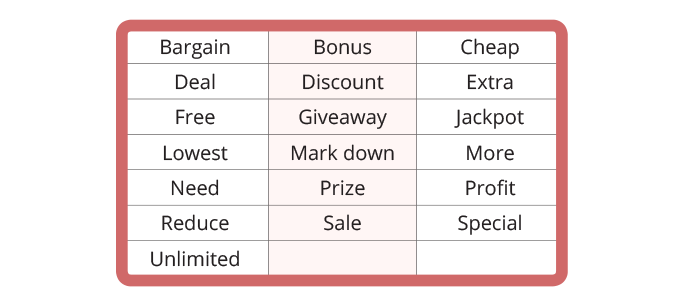 Bargain
Bonus
Cheap
Deal
Discount
Extra
Free
Giveaway
Jackpot
Lowest
Mark down
More
Need
Prize
Profit
Reduce
Sale
Special
Unlimited
Now let's take a look at some examples.
"Last chance to snag this deal! Subscribe today and get FREE unlimited access to our members-only content, plus exclusive discounts on consultation services."
"Free giveaway with every purchase made today! Click to unlock your special pricing and claim your bonus prize"
Urgency
Urgency power words create… well, a sense of urgency! Readers feel compelled to take action right away or risk losing out on something valuable. The examples above in Greed also used some Urgency power words – were you able to spot them?

Act now
Don't miss out
Ends soon
Expires
Final
Hurry
Last chance
Limited
Never again
One time only
Only
Time is running out
Today
While it lasts
Now let's take a look at some examples.
Hurry, time is running out! Only 1 more hour to get free shipping on your order."
"Flash sale ends soon! Don't miss out on our lowest prices of the season."
Trust/Logic
Trust and logic words make you appear more credible and trustworthy to readers. Using these words reassure readers that they can trust you with their information, that you are providing honest and reliable information/products/services, and that you are objective and reasonable when communicating with customers.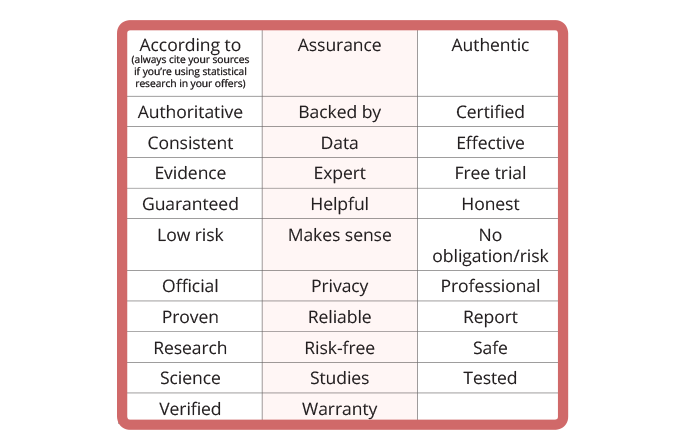 According to (always cite your sources if you're using statistical research in your offers)
Assurance
Authentic
Authoritative
Backed by
Certified
Consistent
Data
Effective
Evidence
Expert
Free trial
Guaranteed
Helpful
Honest
Low risk
Makes sense
No obligation/risk
Official
Privacy
Professional
Proven
Reliable
Report
Research
Risk-free
Safe
Science
Studies
Tested
Verified
Warranty
"Start your no obligation, free trial today and see why studies* have proven that [product] is the most effective form of back pain relief available on the market today."
"Science-backed and verified by the FDA, safe and effective weight loss supplement. Click to try risk-free now with a money-back guarantee."
Simplicity (also called Sloth)
Simplicity power words reduce friction and make readers feel like you're making their life easier. In today's rushed world, people don't want to expend a lot of time or energy to read and complete difficult forms.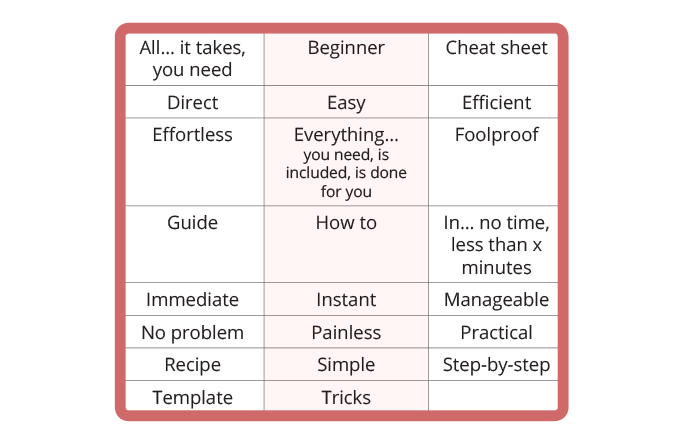 All… it takes, you need
Beginner
Cheat sheet
Direct
Easy
Efficient
Effortless
Everything… you need, is included, is done for you
Foolproof
Guide
How to
In… no time, less than x minutes
Immediate
Instant
Manageable
No problem
Painless
Practical
Recipe
Simple
Step-by-step
Template
Tricks
Now let's look at some examples.
"Get my simple step-by-step guide to align your sales and marketing teams in less than 1 week."
"Want an easy and more manageable way to track employee benefit use? Download our free template and get instant access!"
Exclusivity
Exclusivity power words make readers feel like your offer is only for select people – and they've been chosen! If you're using personalization in your offer campaigns, your offers really can be exclusive!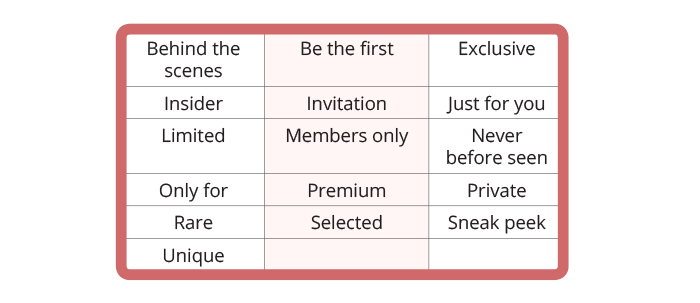 Behind the scenes
Be the first
Exclusive
Insider
Invitation
Just for you
Limited
Members only
Never before seen
Only for
Premium
Private
Rare
Selected
Sneak peek
Unique
Now let's take a look at some examples.
"Be the first to see our private new members-only wine vault! Sign up now and receive an exclusive invitation to our soft opening event in September."
"As a premium membership holder, you've been selected to get a behind the scenes look at our new product line, with a special offer created just for you!"
Picreel Makes Using Power Words In Offers EASY
One of the advantages of Picreel pop-up templates is that they're already auto-filled with content. While we don't suggest using our wording, we include it to give you an idea of the best length and number of words to use, and also where important words can be placed for emphasis. In these templates, consider placing your power words where they are emphasized. When the first thing your reader sees is "Exclusive Offer", "Guaranteed", "Ends Soon", or "Free", they're more likely to pause, take notice and see if what you're offering is something they simply must have.
Create irresistible offers by using power words to increase conversions – TODAY!
Do you want instant 300% growth?
Picreel popups can get YOUR website 300% instant sales growth. See Case Studies.