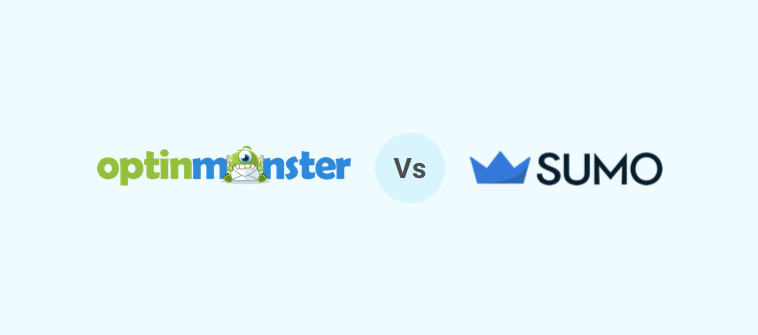 Trying to decide between OptinMonster vs SumoMe? For marketers looking for a conversion tool to turn website visitors into buyers and subscribers, these two popular lead generation plugins promise to convert your traffic and grow mailing lists with ease.
Surely, these two tools fall under the same category but are in no way the same. There are significant differences in the features, pricing, and performance. So, choosing the right one for your online business is crucial for growth.
To help you capture maximum leads and boost your conversions, we are here to help you get the right popup lead generation and conversion tool. We will be comparing SumoMe vs OptinMonster on different fronts by considering important factors and parameters.
What Does a Traffic Conversion Tool Do?
A quick look at your website analytics likely reveals multiple pages where sessions are short and conversions are low. There are places where you'd love to be able to grab the attention of site visitors, get them to stay longer, take a specific action, and ultimately entice them to give up their email in exchange for your offers to generate leads.
One of the most effective lead generation and conversion tools that do this is the exit-intent popup tool. By installing a simple plugin that integrates with your existing website and email service provider, you can quickly design a custom exit pop that serves up an offer targeted to the site visitors.
For example, for visitors that are about to abandon their shopping cart, an exit popup may offer a discount in exchange for their email to complete the purchase. Likewise, a visitor who has spent a certain amount of time reading your blog may get an exit pop that invites them to join your email newsletter list.
That's the view from 40,000 feet. Now let's look at OptinMonster vs SumoMe in detail.
What is OptinMonster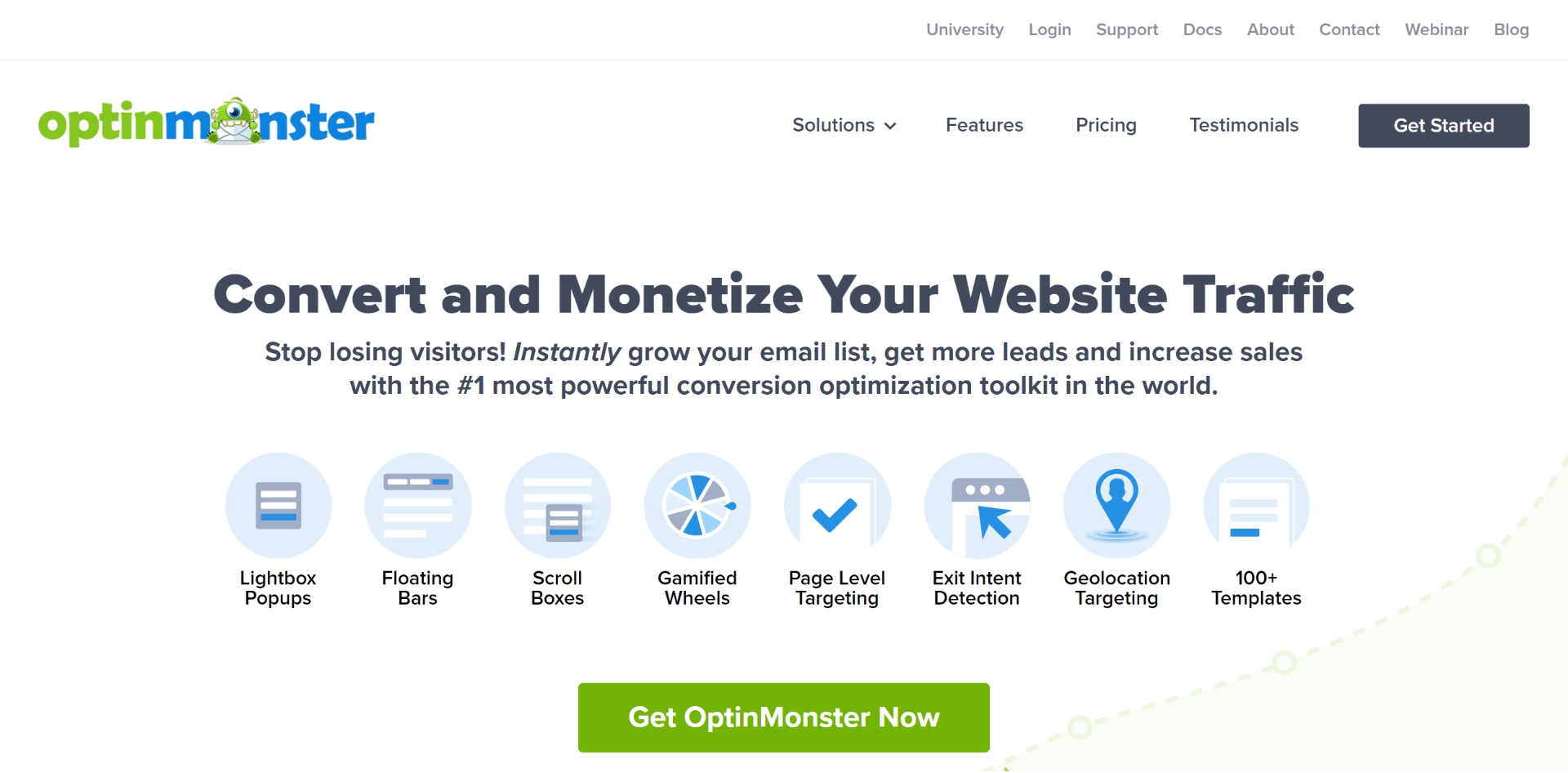 OptinMonster is a conversion platform optimized mainly for WordPress sites, although it works on any type of site. The software tracks visitors' mouse movements using signature exit intent technology to serve a popup just as the visitor is going to leave your site.
OptinMonster also allows you to serve up unique offers using page-level targeting based on a visitor's location and behavior; for example, if a visitor puts a certain product in their shopping cart, then they see a popup for a special offer on a complimentary item.
There are some more advanced features in this easy-to-use tool to grab leads and increase conversions. We will get back to the features below.
What is SumoMe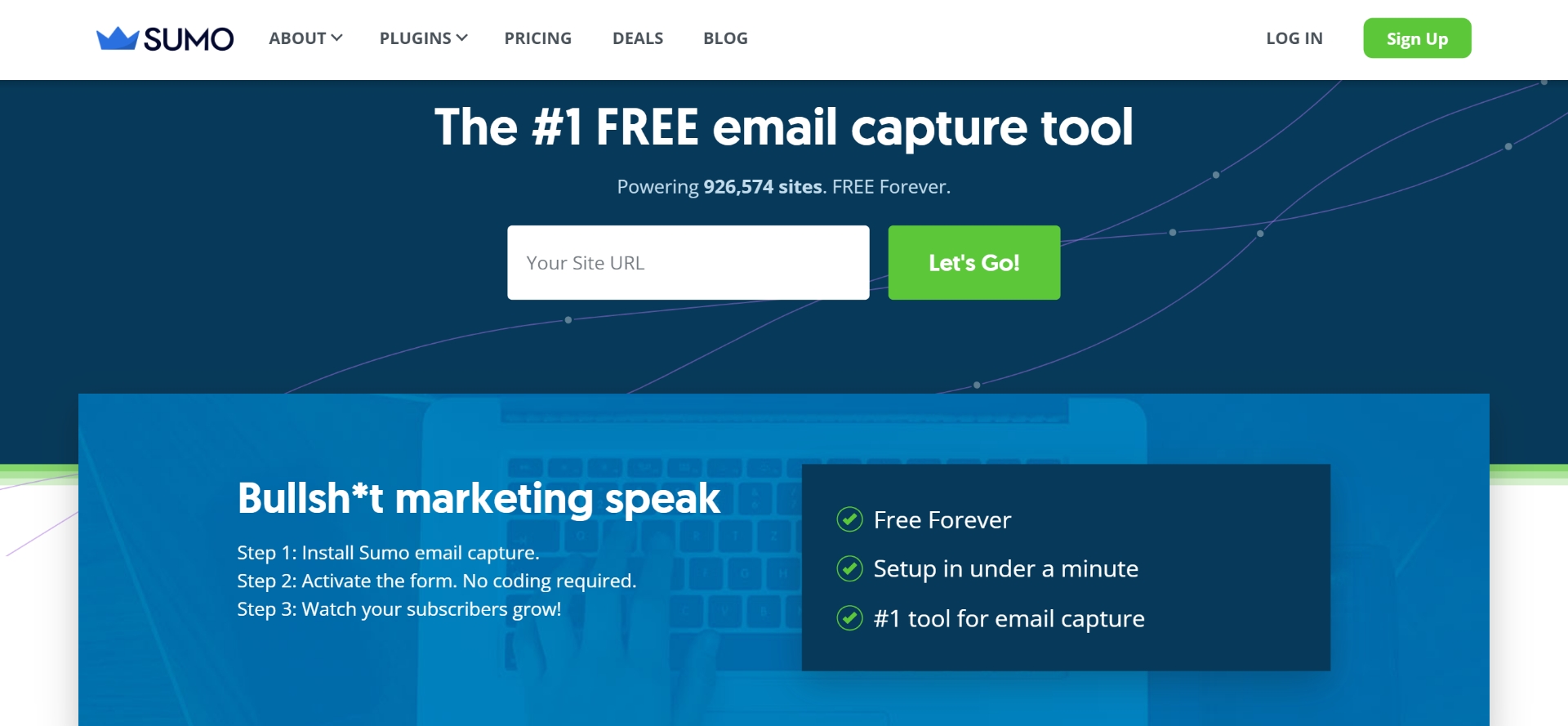 SumoMe is a complete suite of free tools designed to help grow your business. The List Builder app serves exit popups at just the right moment, such as when the visitor navigates to leave your site, after a certain amount of time, or when a specific link is clicked.
The unique selling proposition of the app is that it is incredibly simple to use, featuring drag and drop functionality that allows you to fully customize popups to appear as though they were designed specifically for your site. While the basic List Builder app is free to use, a paid Pro version offers expanded features for more functionality.
Features: OptinMonster vs SumoMe
Both the software are equipped with some really good features to help you boost leads and conversions. But as per your requirements, some features might be more useful than others. Here are the complete features for both OptinMonster and SumoMe.
OptinMonster Features
Huge library of ready to use popup templates

Drag and drop builder

Multiple types of opt-in forms

26+ eye-catching animation & sound effects

Exit-intent forms to reduce cart abandonment

Mobile friendly popups

Multiple campaign types (floating bar, slide-in scroll box, inline forms, lightbox popup, fullscreen welcome gate, countdown timer, sidebar forms, content locker, and coupon wheel opt-in)

Blank canvas forms

Multiple campaign trigger options (scroll trigger, exit-intent technology, InactivitySensor, 2-step opt-ins, timed display control, campaign scheduling, HTML elements, and JavaScript variables)

Wide range of targeting & re-targeting options (page-level targeting, geo-location targeting, device-based targeting, on-site follow up targeting, referrer detection, cookie retargeting, on-site retargeting, and adblock detection)

A/B testing to test your popup ideas

Real-time analytics to study visitors' behavior

TruLead function to verify leads

Advanced conversion analytics and reports

Easy integration with popular sales and marketing tools for lead sharing
OptinMonster is super easy to use and you can create multiple variations of your popups to A/B test them. As for your normal venture and popup marketing, no technical skills are required. You get value for money, making it an affordable choice among marketers.
The only thing that you might not like is the lack of complete customization of ready-made popup templates. You can play with some elements of the popup but not all. For that, you will have to work blank canvas form to put in custom HTML in it, which requires some technical skills, though.
As the tool integrates well with your existing sales/marketing/CRM tools, there won't be a problem transferring your leads automatically. With a dedicated OptinMonster support team available for help, you can get your issues fixed and questions answered quickly.
SumoMe Features
Customizable popup templates and floating bar forms

Drag and drop editor

Neat interface

Mobile friendly popups

Multiple campaign options (list builder popup, scroll-box form, full-screen welcome mat, sidebars, and nanobars)

Multiple popup display mode (timed display control, click trigger, smart display mode/exit-intent)

Wide range of display rules to decide the location of popups on different pages

Visually appealing share options

Heat maps to find where visitors are clicking the most

Content analytics

Highlighter to generate shareable text quotes for social media

A/B testing option to find your best-converting popup

Seamless integration with popular sales and email marketing apps
SumoMe surely has enough features to get started with popup marketing. The free plan is great for individuals and small businesses looking to try lead generation/email capture tools. The app integrates easily with different websites and provides an easy-to-navigate interface.
Certain features are definitely missing when you compare the tool with OptinMonster. The customizable options are also limited and getting additional features in custom plans gets quite expensive.
However, the support that they offer and insightful content in newsletters is perfect for community members and marketers to grow their business.
Pricing: OptinMonster vs SumoMe
OptinMonster and SumoMe differ a lot when it comes to pricing plans. OptinMonster offers four pricing options based on the number of sites, page views, and features. The most basic plan starts from $9/month (billed annually). You can also contact their sales team directly for custom pricing as per your requirements.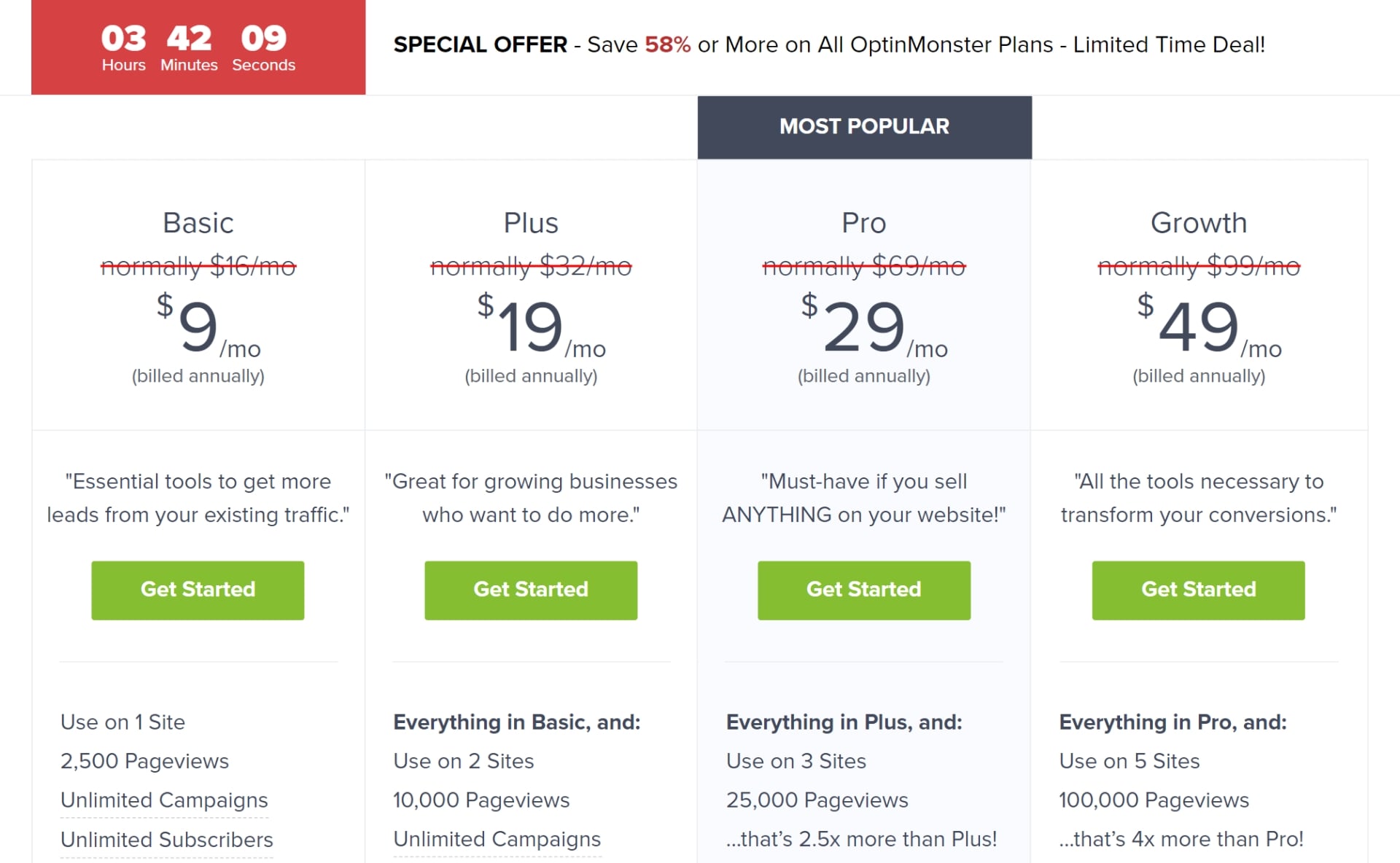 On the other hand, SumoMe offers two plans. As we mentioned earlier, it is a free-to-use tool. So, the first basic plan with limited features and functionality is for free. The Pro plan is for $39/month (billed annually) and comes with a wide range of advanced features. You can also contact their support team for pricing questions and custom plans.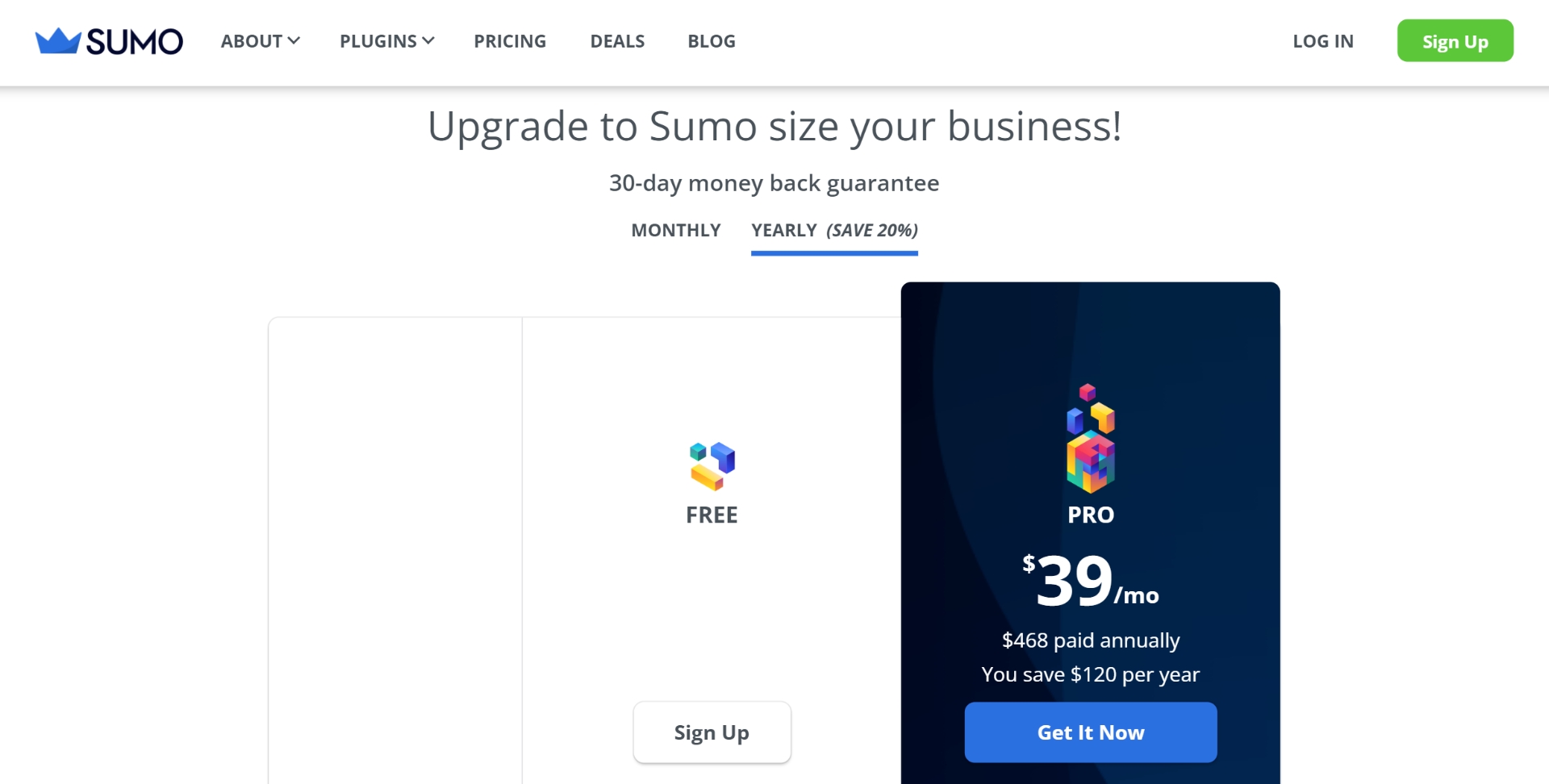 (Plan price is based on a maximum of 3 sites and 100k visitors per month)
So, it is clear that OptinMonster has multiple pricing options for businesses of different sizes. Although, there isn't a free plan available like SumoMe. But the features that OptinMonster offers according to their plans, the pricing is reasonable.
Which is Better: OptinMonster vs SumoMe
So, back to our question after comparing the two software in depth. Which one is better? Are SumoMe reviews good or OptinMonster should be your choice? Well, you might have a good idea about these questions now.
Both the tools have basic features and are popular among online marketers. But, when you look at the more advanced features and a budget-friendly option, OptinMonster is ahead in the race with multiple pricing plans. While SumoMe offers a free plan, it is very limited in features and a lot of businesses find the templates outdated/boring.
Another thing that's for sure is the modern designs and updates that are introduced from time to time in OptinMonster. SumoMe doesn't have that wide range of popup designs and animations/effects to keep the visitors engaged.
The answer lies in your requirements. If you're looking for some serious popup marketing to collect quality leads and increase conversions, OptinMonster is a great choice. But, if you just want to try out a lead generation popup tool, you can start with the free plan of SumoMe.
How Picreel is a Better Choice?
If you're in the market for a serious conversion tool, you owe it to yourself to add Picreel popup builder to your list. With all the features of OptinMonster and SumoMe to capture leads and increase conversions, Picreel also offers customer survey popups, event registration pops, onsite retargeting, unlimited campaigns, and more email, CRM, and marketing automation integrations than any other conversion platform.
The pricing plans laid out are also reasonable as Picreel offers higher sales & conversions – guaranteed, on your existing traffic. Picreel also offers a 15-day free trial and plans start at $9.99 per month. The tool also offers a forever-free plan with unlimited campaigns and popups, enabling you to test it out before making a decision.
Start Using Picreel's Drag & Drop Popup Builder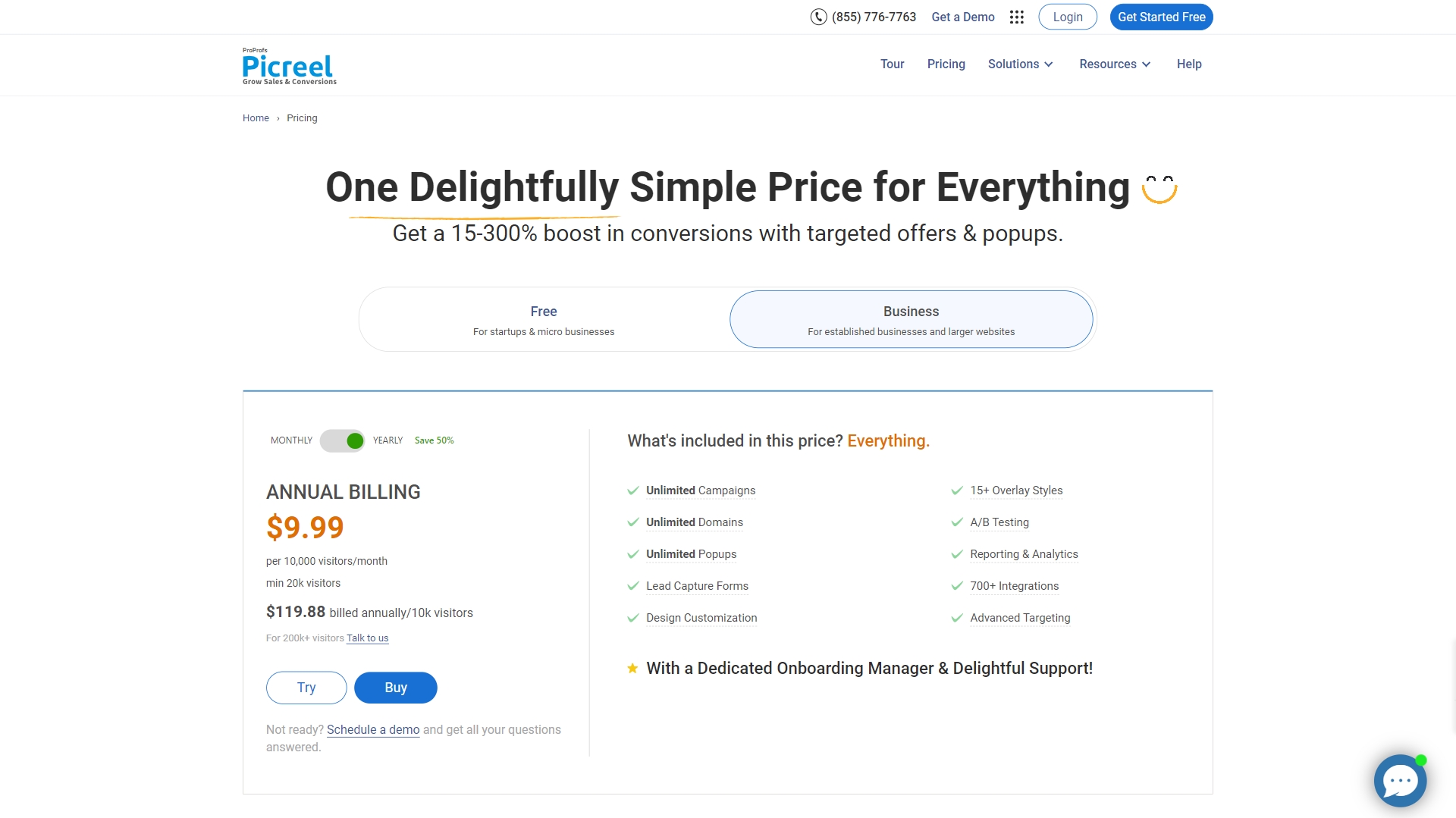 Picreel's smart exit-intent technology is also great and preferred by popular brands worldwide. Without interrupting the user experience, Picreel displays popups to website visitors at the right time for the best results. With A/B testing options and cart abandonment solutions, it is a better choice to maximize your conversions and revenue.
Comparison Chart: OptinMonster vs SumoMe vs Picreel
| Benefits | OptinMonster | SumoMe | Picreel |
| --- | --- | --- | --- |
| Exit Popups | Yes | Yes | Yes |
| Timed Popups | Yes | Yes | Yes |
| Link Popups | Yes | Yes | Yes |
| Multiple Popup Types | Yes | Yes | Yes |
| No Coding Required | Yes | Yes | Yes |
| Analytics | Yes | Yes | Yes |
| Easy Editing | Yes | Yes | Yes |
| A/B Split Testing | Yes | pro only | Yes |
| Mobile Integration | Yes | Yes | Yes |
| Email Marketing Integration | Yes | Yes | Yes |
| E-Commerce Integration | Yes | Yes | Yes |
| CRM Integration | Yes | No | Yes |
| Onsite Retargeting | Yes | No | Yes |
| Personalized popups | Yes | No | Yes |
| Guaranteed Conversions | No | No | Yes |
| 24/7 Support | No | No | Yes |
So, Who Will It Be?
The comparison of OptinMonster vs SumoMe is right in front of you, with a bonus option Picreel that you should consider. OptinMonster and Picreel are both advanced and better than SumoMe, which is more of an option for beginners and individuals looking to experiment with popup marketing.
However, if you want are looking for a complete marketing solution for lead generation and conversion rate optimization, Picreel can get the job done. So, time to make the choice!
Do you want instant 300% growth?
Picreel popups can get YOUR website 300% instant sales growth. See Case Studies.