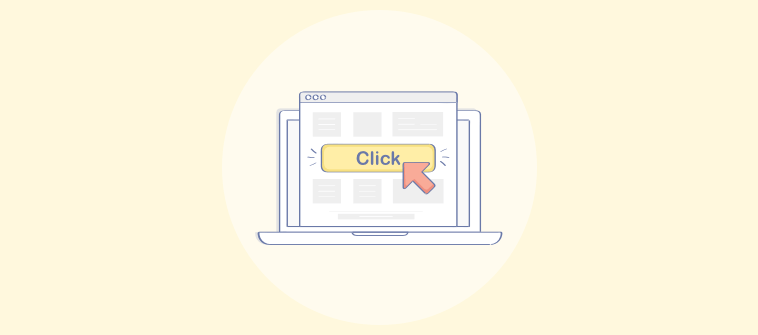 What if you could increase leads and conversions by 300% or more? The secret to growing your online business lies in exit-intent popups!
Yes, you read that right. The annoying messages known as popups can prove to be a game-changer for your business. Many companies have seen a rise in popup conversion rates, leads, and sales by effectively using exit-intent popups.
The good thing about exit popups is that you get more sales and conversions from your existing traffic. But how? Aren't popups really irritating? Yes, normal popups can get irritating as they disrupt the user experience.
That is not the case with exit-intent popups, as they track visitors' behavior in real-time and detect when the visitors are about to leave the website. The popup window appears at the exact moment the visitors show exit intent. Isn't it amazing?
Yes, it definitely is great. But how are you going to get amazing results with exit popups? For that, we have put together a step-by-step guide with proven tactics to get more conversions.
What is a Popup Conversion
For a particular website, pop up conversions are simply the number or percentage of people that converted from popups running on that website. Let's understand this with an example.
Imagine you have an online store where you sell grocery products. You started running popup campaigns on your homepage, product pages, and checkout page. You displayed popups to 10000 visitors that you got in a month. Out of that, 3000 visitors responded to your call to action (CTA) button. So, your pop-up conversion rate is 30%.
Based on your offer, you can further analyze the conversion rate. Firstly, the number of shoppers that simply clicked the CTA by submitting the details you asked for. Secondly, the number of shoppers that completed their purchase i.e., your primary goal. So, these numbers can be calculated based on the data gathered in the popup software.
Step-by-Step Guide for High-Converting Exit Popups

To generate high-quality leads through high-converting popups, you first need to consider the different elements of popup that can significantly impact the results. The elements of an effective exit-intent popup are:
Creative Design
It's 2021, and displaying outdated popups with an old design that doesn't even match the website's theme isn't going to work. You need to create a popup that matches well with the webpage. This includes changing the colors, fonts, borders, etc., and especially replacing the stock images.
The more you personalize your exit popup visually, the more appealing it's going to be for the visitors. Place the image relevant to your offer on the popup. Also, improve the overall user experience by making buttons like popup exit button [X] and links/action buttons easily visible.
Engaging Copy
When the visitor is about to close the tab and exit your website, you don't have much time to capture their attention. So, writing a long story isn't going to help. You need to be clear and precise with your content copy. Plus, an eye-catching headline is a must to engage visitors.
Try not to be much creative with words in your content copy. Keep it short and easily digestible, so your offer doesn't go unnoticed. Avoid over-stuffing of words and don't be vague. Try to maintain a conversational tone so the visitor quickly catches your offer.
Actionable Call-To-Action (CTA)
The most crucial ingredient of your exit-intent popup is a call to action. A couple of words written in the highlighted box will drive your visitors into taking action. So, you have to be thoughtful about these crucial action words.
Some actionable and direct CTAs are: "Yes, I want 25% off!" & "No, I will leave the discount", "Reveal free shipping code" & "I will pay the shipping fees", etc. These CTA's convey what the visitor is losing and force them to take action.
Keep in mind that your CTA should have an action word to guide the visitor to your offer. Some good action words include Bring, Buy, Save, Get, Start, Take, Order, Shop, etc. Also, do not insert multiple CTAs at the same time, as that will confuse the visitor. So, make your CTA crystal clear.
That was about the design, looks, and content of your popup. Next, you want to target the right audience at the right time. For that, you will have to set these parameters accurately.
Trigger Options
You don't want to interfere with the user experience by presenting popups at the wrong time. With the help of exit popups, you can target the leaving visitors. But, if you want to display other offers, you must trigger popups at the perfect moment.
You can display the popups based on triggers like time on page, scroll percentage, clicked on a link or somewhere on the page, and exit-intent. If you want to show more than one popup, then you can set the priority and different trigger events.
Targeting Rules
You definitely don't want to target your existing visitors with an offer for new visitors or visitors from New Jersey with an offer curated for California shoppers. That's where targeting comes in. You need to set your target audience for different popup campaigns.
There are many targeting options like traffic-based targeting, re-targeting, cookie targeting, location-based targeting, device-based targeting, etc. By segmenting your traffic, you can set the targeting rules to display relevant popups to the visitors. Because if you don't target it right, all the hard work put in the design and copy will be of no use.
Now that you know how to create popup ads and target them, it is time to look at some proven strategies to boost popup conversion rates.
7 Best Ways to Boost Popup Conversion Rates
#1 – Ask for Less Information
Keeping things simple and fast for your visitors should be your primary focus. This includes asking for limited and relevant information in your popups and forms. No one likes to fill multiple fields like name, number, age, email, location, etc. Why so? Firstly, visitors don't have so much time. Secondly, there are privacy concerns if you ask for too much information.
So, going with the proven format of asking for a name or email address is great to capture leads and increase conversions. While creating your best pop up ads, ask yourself what information you really need, and design the popup around that.
#2 – Inject Social Proof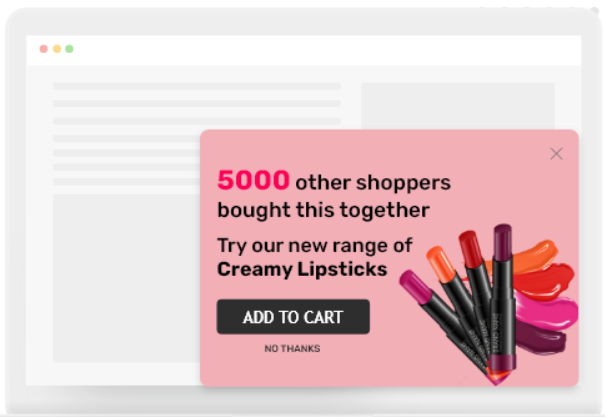 Social proof is a great persuasion tool. It lets the visitors know what other shoppers are doing. Messages like "Trusted by 100000+ customers", "1000 people have this product in their carts", "Join 250000 fellow marketers", etc., make an impact on the visitors' minds.
When visitors come through such messages, it makes them feel they might miss out on something valuable. You can also use an image in the popup displaying customers' reviews or star ratings to make your offer more credible. Finally, try to place some logos that speak: Yes, this brand is trustworthy.
#3 – Delay the Close [X] Button Appearance
The Internet is flooded with popups, and many people tend to quickly close the popups without even looking at the content. When you delay the close [X] button appearance by 4-5 seconds, the visitor will have the opportunity to look at your offer.
So, while looking for the X button, they might actually consider your offer. After a few seconds, the X button will appear, and the visitors can close the window if they like. Also, are your pop-ups advertising irrelevant stuff? If not, then there's a high chance that the popup will pique their interest.
#4 – Make Your Popups Responsive
Just like responsive websites, popups should also be responsive to increase conversions. The principles are the same here that you use for creating responsive website designs. The popups should fit in perfectly with both small and large screens.
If your popups don't fit correctly in the frame, they won't get people's attention, and your offer will go unnoticed. By using a responsive and mobile-friendly design, your popups can help you get 10-15% extra conversions. One more thing to note is that popups should be blazing fast. They should load quickly, and for that, you should use optimized images & logos.
#5 – Time Your Popups Right
Timing is crucial when it comes to leaving an impression. Getting your popups to pop at the right time can prove to be the game-changer for your conversions. If you display a popup right when the visitor enters your website, it might annoy them. So, you need to set the trigger options precisely for the popups.
Also, if you don't want to interrupt the user experience, you should stick with exit-intent overlays. The same discount popup when displayed before the visitor is about to leave the site won't have much impact. That's why always time your popups wisely!
#6 – Create a Sense of Urgency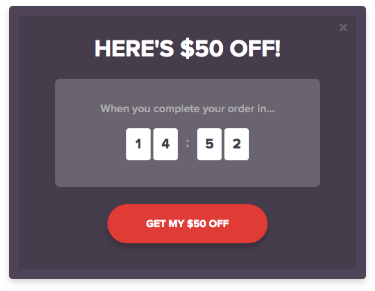 Creating a sense of urgency is a classic marketing tactic to influence visitors. By incorporating this urgency into your exit-intent popups, it creates the fear of missing out on the products the shoppers are exploring. You can insert a timer or play with numbers like "Only 10 left in stock" or "Last-chance to claim limited 30% discount", etc.
Use impactful words and an impressive pitch to convey the value of your offer. You can also display flash deals using popups on certain occasions to get instant conversions and sales. The key here is to create a content copy that makes visitors feel they'll miss a great deal.
#7 – Test Your Popups
Testing your popups is crucial to get the best results. If your current popup marketing tactics aren't generating good conversions, you need to make changes. Use A/B testing and multivariate testing to create different variations of your popups by changing elements like CTA, font, colors, content copy, design, etc.
Small changes can make a big difference in conversions. Find these little things to optimize your exit-intent popups. Also, you can try changing the offer and play with the trigger options to time your popups right. Once you identify, what works best for you, implement those changes in your future campaigns.
Let's Pop the Conversions!
Your popup conversion rate can definitely roar with the help of exit-intent popups. Using the guide and tips mentioned above, you can create high-converting popups to boost your mailing lits and revenue significantly.
Make sure to choose the best pop up tool that offers you complete customization of popups with advanced trigger options and targeting rules, plus A/B testing & analytics. Picreel popup builder provides great pop up solutions to display delightful popups to convert visitors into customers.
Do you want instant 300% growth?
Picreel popups can get YOUR website 300% instant sales growth. See Case Studies.