Every time Google releases changes to their algorithms it makes the news and sends website owners, managers and SEO consultants scrambling to keep up. And every time there are unexpected winners and losers resulting from their new rankings process.
Google has announced that starting January 2017 they are going to penalize sites that have intrusive popup ads on mobile devices. Google is mostly concerned with non-native ads that are full-screen mobile overlays interfering with visitors' ability to read and access content on their phones. The company updates the algorithms that rank Google search results so that offending pages are more likely to get lower placement.
And hey, your success is important to us! So, here is a short manual for a better understanding of the issue. Read on to learn about the new rules of how your business can continue to use mobile popups.
Which popups are going to be penalized?
There are three types of ads that Google has declared war on:
 popups that cover all of the content;
 intermediary web pages that have to be dismissed before the main content can be seen;
 ads that fill the web browser's screen so users have to scroll down before they can see the needed info.
Already worried? Breathe out, there is no need to panic!
Google will make some exceptions: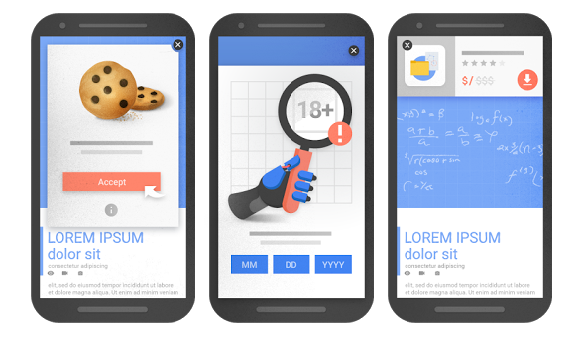 Source: Google Webmaster Central Blog
Google isn't recommending the removal of mobile ads. In fact, they have another policy change that ends the restriction on a number of ads that can be displayed on a single web page. This is likely in response to the new single-page layout that many web operators are adopting in order to make their site content more mobile friendly.
Our advice is always the same. While we need to pay attention to changes in the world of SEO, chasing Google in and of itself is not a great strategy. Instead, focus on delivering quality content and maximum value to your visitors, and give them obvious reasons to convert into buyers. And that's where Picreel comes in as the leading product for Conversion Rate Optimization (CRO).
All the changes will impact mobile search results only, and the new rules will go into effect starting January 10, 2017. Google is primarily targeting spammers, and not those who are trying to improve conversions in an unobtrusive way.
Picreel knows better how to keep up with Google standards and increase your conversions on mobile devices. Our customers typically use Picreel templates to capture visitors' attention as they are navigating away from a page as opposed to the overlays that restrict site content upon entering a page as Google has described. Usually, Picreel ads are directly relevant to the content that has already been viewed or is used to present a "last chance" offer when a customer seems to need a little nudge to make a buying decision. And, of course, many of our clients also use Picreel for list building which is generally unobtrusive and has proven to accelerate list growth by as much as 70%.
Our team has recently released a number of new mobile-friendly templates, including multiple steps, timer, and circle designs. All these overlays are optimized for mobile screens under the new Google standards. Please, feel free to contact us for more information. We will help you develop the strategy that best enhances your CRO campaign.
Do you want instant business growth?
Picreel customers get a 15-300% instant increase in inbound leads & conversions.