While conversions are important for any website, for retail businesses and eCommerce sites, a lack of conversions is literally lost revenue. Website analytics show specifically where visitors are coming into a site, where they're spending time, and for how long, but eCommerce sites have an extra layer that directly correlates to their success: The Shopping Cart.
Funneling a site visitor through the product pages, to the shopping cart, and through transaction completion is a conversion for an eCommerce site. But often – actually nearly 70% of the time – the visitor goes through the process of shopping and adding products to their cart only to (POOF!) exit out of the website and abandon their shopping cart.
The good news is that there's a lot of research on this topic. The leading web usability research institute, Baymard, has found that most large-sized eCommerce sites can increase their conversion rate by as much as 35% through better checkout design. In all, the eCommerce industry is sitting on roughly $260 billion worth of recoverable revenue due to abandoned shopping carts.
Let's take a look at why visitors abandon shopping carts in the first place, and some specific strategies you can take to reduce your cart abandonment rate and increase revenue.
Why People Abandon Shopping Carts (And How To Fix It)
The number one reason (61%) is due to unexpected and high extra costs. It wasn't clear they had to pay for shipping or shipping costs were too high, there were extra fees tacked on, or sales tax was added.
Not your site's issue? Take a look at the table below for Baymard's top reasons for cart abandonment and our recommended quick fixes to improve your site's checkout design:
| Why You Lost Them | How To Fix It |
| --- | --- |
| Extra costs (shipping, tax, fees) (61%) | Make your shipping policy clear upfront. If possible, add a shipping calculator to product pages so visitors know what to expect before they get to their cart. |
| Required to create account (35%) | Offer a guest checkout option to streamline the process. You may not get complete customer information, but you get more sales. |
| Long/complicated checkout process (27%) | Reduce the number of form elements in the checkout process. |
| Total order cost wasn't calculated upfront (24%) | If shipping and fees are included, don't hide it until the end of the checkout process. Show the total before asking the visitor to begin the form elements. |
| Website errors (22%) | Use a reputable web developer to improve website speed and functionality to eliminate errors. |
| Didn't trust the site for credit card information (18%) | Upgrade to an EV or OV SSL certificate to assure customers that their data is securely encrypted and protected during transmission. Place the certificate right next to the checkout or cart button. |
| Shipping too slow (16%) | Offer multiple shipping speeds, and partner with multiple carriers to provide the best price to customers. |
| Not enough payment methods (8%) | Visa and MasterCard payment should be standard and many online consumers expect PayPal, which is easy to add to your site. |
| Credit card declined (8%) | If the customer knows they have funds, it could be your merchant services provider. Be sure to use a reputable provider to minimize processing errors. |
Here are a couple more reasons for cart abandonment that aren't quite quick fixes. But, they can be easily fixed with the conversion rate optimization strategies that we'll get to in a minute.
"No Thanks, I'm Just Browsing"
Ever found yourself saying this to a sales associate in a real store? Of course! But would you say it after putting items in your basket, standing in line, and being told your total by the cashier? Probably not. But Baymard found that this is the case 58.6% of time when it comes to online shopping cart abandonment.
It happens for a couple reasons:
1) The shopper is curious about the price and availability of a specific product, but not ready to buy. They may even complete the checkout process up until payment to get the shipping and delivery time to get a clear picture of what it takes to get the item.
2) The shopper is actually "comparison shopping" to get the best deal. They may even have multiple eCommerce sites open with the same item in their cart to see where they can get the best deal with fast, free shipping. Or, they may want to compare the online price with local pricing; but because they can't see shipping costs and speed until the cart, they're forced to add the item.
Whether they're not ready or they got a better deal somewhere else, the result is the same: A Lost Sale.
"Sorry, What Was That?"
By now you've heard that today's smartphone-wielding human population has an attention span shorter than that of a goldfish, right? Apparently we can hold a thought for about 8 seconds, according to a 2015 study by Microsoft Corp. So when you think about the barrage of information coming at the average person from work, family, friends, and media; then you add in the overwhelming reach of the Internet and the brain damage done by online multitasking… at some point you have to expect that even the most the well-intentioned, would-be buyer has simply accidentally abandoned their shopping cart due to distractions.
They meant to finish their transaction or they plan to come back. In the meantime the result is the same: A Lost Sale.
Recover Lost Sales With Exit Popups
While it's helpful to know why people abandon their shopping carts, what you really want to know is how to recover those lost sales and get shoppers to complete their transaction, right? The solution is simple and can be implemented in minutes on any eCommerce website for fast results.
Exit Popups
Picreel is a powerful conversion platform with ready-to-go desktop and mobile popup templates that have been strategically developed around popup best practices. As one of the industry's earliest providers of popups as a conversion rate optimization (CRO) tool, Picreel's customers have seen incredible results within days of implementing their campaigns.
Targeting for popups can be very granular with Picreel. You can have them appear on exit, after a certain time spent on a page, after the visitors has scrolled down a certain percentage of a page, or even after they have visited a certain number of pages on your site.
The goal of any popup is to target visitors with a relevant and valuable offer based on their behavior on your site.
Exit Popups To Reduce Cart Abandonment
For eCommerce sites, popups are at their most powerful when triggered to appear on exit: in other words, as the shopper moves to close the tab and abandon their cart!
Logically, when your goal is to reduce shopping cart abandonment rates, you want to find ways to make shoppers complete their purchase. As the shopper is about the abandon their cart, you could show them a popup that offers:
Free shipping
A dollar or percent off discount
A free bonus item with purchase
A discount on a complementary item
A discount of gift card on a future purchase
When it comes to the actual popup, you have several design options and some may prove to be more effective than others depending on your shoppers' behavior, your products, and your offer. Picreel features popup templates created specifically for eCommerce CRO:
Two Step Coupon – This lets the shopper know they will receive the coupon code instantly; no going to their email inbox and coming back!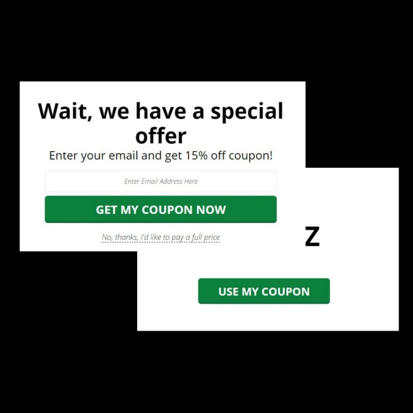 Timer Overlay – This conveys a sense of urgency and encourages the shopper to complete their transaction in time to receive the discount.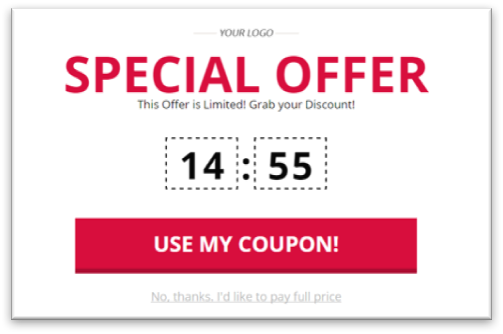 Two Buttons Overlay – While collecting emails is a huge benefit of using popups, some eCommerce sites are more concerned with the immediate sale. This overlay gives the shopper instant access to the discount, no questions asked.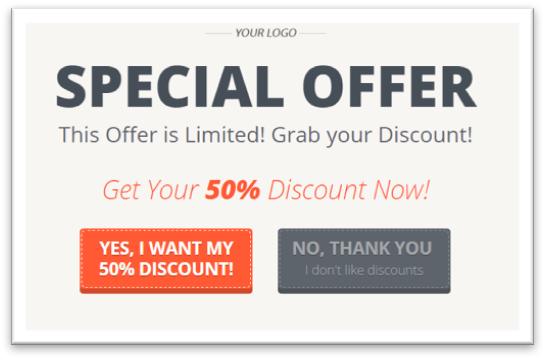 Traffic Redirect – If you're offering a free complementary item with purchase, a redirect pop will take the shopper to the product page; once they add the special item to their cart, the discount will appear at checkout.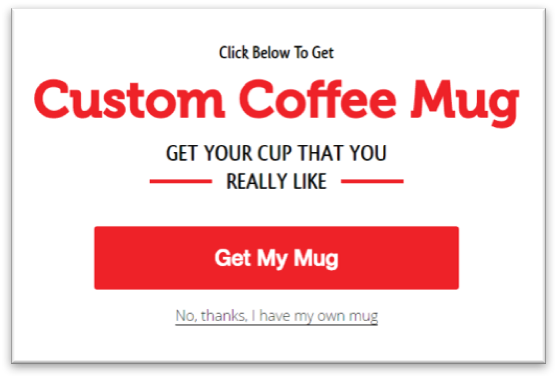 How Do You Know What Works?
In addition to the user-friendly Picreel dashboard that gives you overall and campaign-specific stats at a glance, Picreel customers also have unlimited A/B split testing that allows you to test two different versions of a popup to see which performs better. Mix and match different templates with different offers, and the results will be clearly displayed on your dashboard. This takes the guesswork out of your strategies and allows you to allocate your resources to the winning popups for maximum conversions and sales.
Actual Results Are… A-W-E-S-O-M-E!
Below are a couple examples of real Picreel customers' exit popups to show you just how effective pops can be as a CRO tool for eCommerce sites.
EuroOptic, an online firearms, optics and gear retailer, reeled shoppers back in by offering them a $25 gift card for the next purchase. The popup offer is triggered after a shopper places an item in their cart and then makes to exit the site.
The results? The campaign had a nearly 18% conversion rate!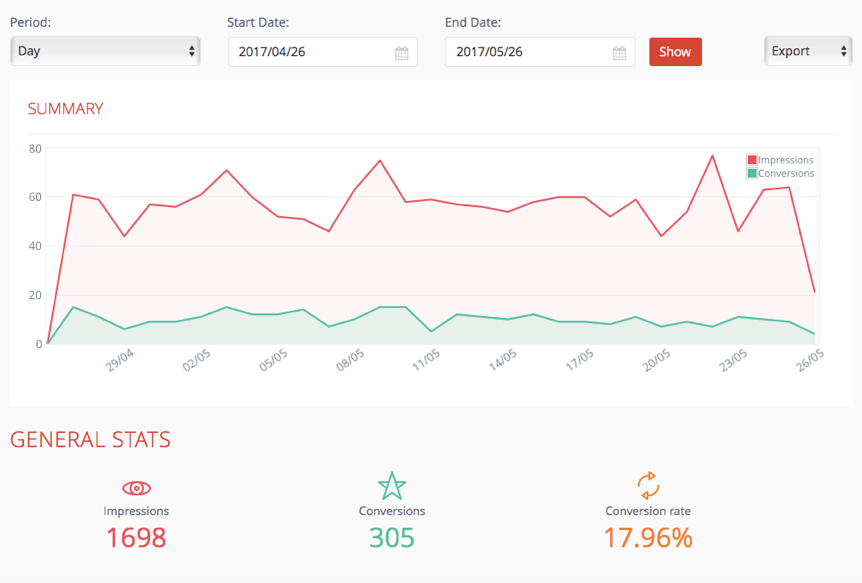 While this strategy may not work for everyone, for eCommerce sites where buyer behavior shows a pattern of repeat purchases, this is a great deal to entice shoppers to complete their purchase knowing they're going to be shopping again soon.
This site opted to go the instant gratitude route and offer shoppers 5% off applied directly to their shopping cart to complete their purchase. And remember, they may require an email in the form fields during checkout, so even if they don't collect it in the popup, they can still match the shoppers' purchases with the use of the popup. Ready for the results? An astounding 64% of shoppers snagged this deal!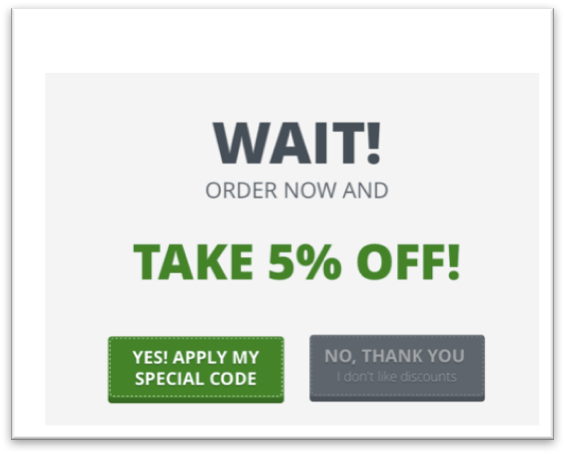 When you consider that the average conversion rate for eCommerce sites is less than 3%, these wins resulted in a serious boost to the business' bottom line. And it's SO SIMPLE. Get started with a free 30-day trial of Picreel now and you can have your first conversion rate optimization campaign live in a matter of minutes!
Got questions? We've got answers. Get in touch with us online or call 888-891-5782.
Do you want instant business growth?
Picreel customers get a 15-300% instant increase in inbound leads & conversions.