Editor's note: This story was originally published in January 2017. It has been updated for accuracy and comprehensiveness.
On January 10th, 2017 Google updated its search algorithm and the change may end up influencing your marketing strategies.
The biggest change Google made relates to the appearance of content on mobile devices and how Google factors that in to mobile SERP rankings.

We have been receiving some inquiries on this change and its effect on Picreel pop ups, so we thought we'd follow-up with what we know so far and see if any webmasters have noticed any issues.
Penalizing Pages
Google is now penalizing pages where content is instantly hidden behind interstitials. Interstitials are widgets or irrelevant popups that appear before the actual content of the page. Examples include display ads or forms that confirm a user's age before allowing them to access a site. People get understandably annoyed by such displays and Google's new change aims to cut down on those annoying widgets.
What About Your Picreel Popup Ads?
Given that interstitials may include popups ads, it's no wonder that Picreel users are worried that the use of the plugin will penalize their website.
As a Picreel user you already know that using relevant and targeted pop ups can play an important role in your acquisition strategy, and you don't want to give it up. But you also don't want to be penalized and fail your marketing efforts by tripping Google's bots.
The good news is there are plenty of legitimate ways to keep your pop ups running and doing their job of converting your traffic. Even better, Picreel is already compliant. Here are a few facts to help answer any popup questions you may have:
This is about mobile experiences only. Google made this update to mobile algorithms only. Desktops are not influenced in any way. You'll be happy to know that you can run any pop ups on desktop devices.
Google targets intrusive interstitials only on FIRST mobile pages. Google only punishes interstitials that cover content on the first page where visitors land from Google search. Pages after that are not harmed. That means you can use any popups (even interstitials) on the second, third, fourth, etc. page after visitor lands on you site from the search.
Mobile pop ups of a reasonable size are okay. Size matters. Google punishes pop ups that cover most of your screen. Look at the third example in image below. That image would pass Google's algorithm, the first two images would not.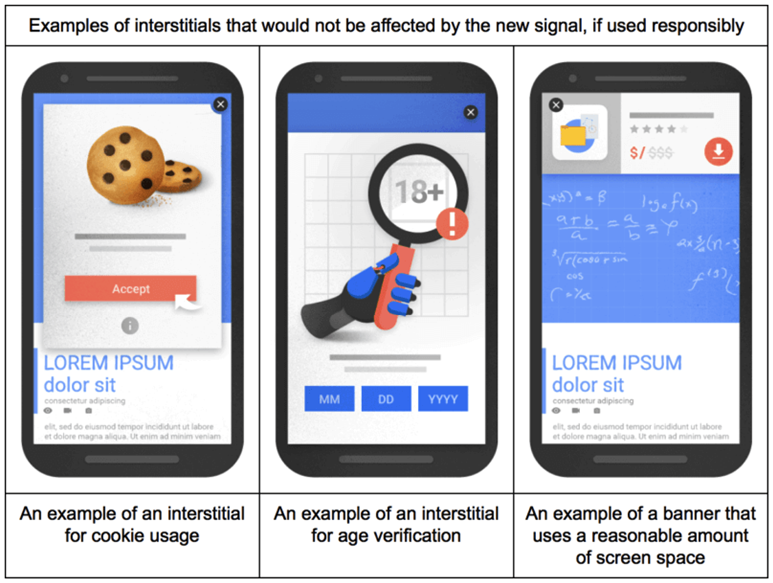 Source: Search Engine Land
Did you notice the close button? Make sure your pop ups are also easily dismissible.
Exit pop ups between pages wouldn't count as interstitials. If you use such exit interstitial there is no reason to panic. In fact, John Mueller from Google answered questions about interstitials triggered by exit popups. This is not something that the recent Google update targets, and this is the very principal Picreel was built on!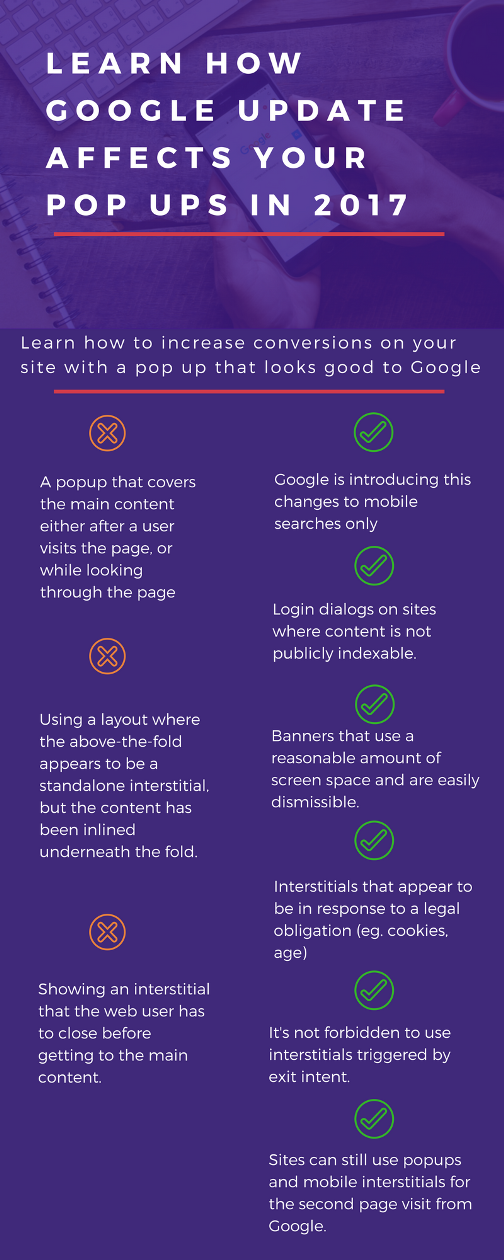 Do you use pop ups as a part of your marketing strategy? Did you revisit your strategy after the Google update? Have you noticed any changes in your mobile rankings? Let's discuss in the comments below.
Do you want instant 300% growth?
Picreel popups can get YOUR website 300% instant sales growth. See Case Studies.