Black Friday and Cyber Monday are the official kickoff of the holiday shopping season. In 2017, consumers spent more than $600 billion during the months of November and December, with online sales accounting for more than $100 billion of that — an increase of almost 15% over 2016, and a record high for the online holiday shopping season.
If you're an online retailer, popup offers are an effective way to catch the attention of visitors on your website, get them excited about a great deal, and convert them into paying customers. If you want a bigger piece of the online shopping pie this season, here's how to create captivating holiday offers that boost sales.
Add Some Festivity To Your Offer
While we generally recommend keeping your offer design consistent with your online branding, a little sprinkling of festivity helps shoppers get in the holiday spirit. It also makes your offers recognizable as something that benefits their pocketbook during the holiday shopping season.
Some ideas include:
Holiday designs

– candy cane font, colorful string lights, presents and bows, santa hats, Christmas trees and stockings.

Animated GIF backgrounds

– snow falling, lights twinkling, or presents being unwrapped.

Creative plays on words

– a wine retailer might say "Season's Sippings!" and a company that sells steaks online might say "Happy Hollandaise!" Cheesy? Maybe. But getting a chuckle out of visitors means you're getting their attention!

Festive coupon codes – think fun codes like "SANTASHIP" or "JINGLE20."
Countdown To Deal Day
It's common for retailers to hype up their Black Friday and Cyber Monday sales ahead of the big day. It's also common for shoppers to start scoping out the deals to create a game plan in advance.
Instead of using an offer to actually offer something, use a countdown timer on a popup to preview your sale and get visitors excited to come back on deal day. Amp it up by changing the offer weekly or daily to showcase a different deal they can look forward to on Black Friday or Cyber Monday.
The countdown timer builds excitement, while the deal sneak peek compels visitors to remember your brand and return to your site regularly.
As a bonus, Picreel offers various styles of countdown timers you can download and install anywhere on your site. These plug-and-play timers are easy to use and are offered as a free tool for anyone to use, even if you're not a paying Picreel customer! Get your here!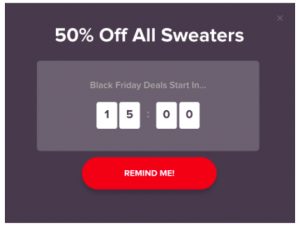 Offer Online And In-Store "Only" Deals
There are many people who thrive on waiting in line at 4:00am to get the best Black Friday deals. There are others who are thrilled to do their shopping from home in their PJs now that online shopping is mainstream.
If you are a retailer that has both an online store and a brick-and-mortar location, you can make everyone happy by using offers to create online or in-store only deals.
Here are some ideas:
Use a popup offer for online only deals, such as free or reduced shipping, percent or dollar off, special pricing on a complementary item, etc.

Use a popup offer for in-store only deals by sending visitors a barcode or QR code, easily created by a QR code generator, that makes it easy to redeem the offer in-store.

Cross-promote online and in-store deals to get shoppers to visit both locations.

Use language to convey exclusivity, such as "Not available in stores," "Good for online orders only," "Special in-store pricing only available with coupon," etc.
Capture Returning Visitors
Window shopping always spikes around the holiday shopping season. Shoppers want to find the best deals, and will often visit the same sites several times to compare pricing, shipping costs, availability, timing, etc.
With Picreel, you have a couple different options to capture these returning visitors and turn them into paying customers. Whatever method you choose, make sure your offer is irresistible. Offer something valuable that creates urgency and entices the returning visitor to take action and make a purchase today.
Targeting

– Create a separate offer campaign to "Welcome Back!" returning visitors. On step 3, Target Options, under Other Options, select Returning Visitors.

Personalization

– Create a third campaign welcoming back returning

customers

. In this case, you will have needed to collect the visitor's email address in the past and have data associated with it in your CRM. Depending on what data you have in your CRM, your offer can welcome the customer back using their first name, offer them a special price on a product they previously purchased, etc. Personalization options are located on the same Target Options page when setting up your Picreel campaign.

Keep Shoppers Engaged With Email Marketing
The beauty of using offers on your website is that in addition to getting an instant boost in conversions (holiday sales in this case), you're also collecting email addresses to use for future email marketing.
This is pure gold (anytime), especially around the holiday shopping season!
Before you start creating offer campaigns, it's important to have your follow-up emails in place and ready to roll. The quicker a new Picreel lead receives an email from you after converting on your offer, the more likely they are to remember you.
The goal around the holiday shopping is clear: sell, sell, sell, buy, buy, buy! Shoppers are specifically checking their emails for deals, so don't hesitate to develop your content and cadence around your special offers and promotions. While you can send your "Daily Deals" email to your whole database, you can always choose to take your email marketing a step further and personalize your messaging to include product recommendations and special offers based on your customers' past purchases.
The countdown is on! Are you ready for the holiday shopping season? Leave a comment below and let us know how you use offers in your holiday sales strategy!
Do you want instant 300% growth?
Picreel popups can get YOUR website 300% instant sales growth. See Case Studies.