Whether you already have a robust lead database, or you've only recently started using Picreel to collect leads from your website, one thing is the same: every time you send an email to your leads, the goal is to get them to open it, click-through to your site, and take the desired action.
If your email stats are looking a little sluggish, here are a few quick tips you can incorporate today to boost engagement.
First, Look At Relevancy
Before making any major overhauls, look at the messages you are sending. At the end of the day, people are only going to open and act on emails if it's relevant and valuable to them.
We've talked about relevancy a lot when it comes to your onsite popup offers. For example, placing free shipping and discount code offers on the cart page when someone makes to abandon their cart. Placing your subscription offer on your blog after someone has read to the end of a blog, or visited several blog pages. When you show relevant offers to the right people, at the right time, they're more likely to click and convert.
Same with emails!
If someone has only recently joined your email list from your blog, don't send them a re-engagement email saying you've missed them. They need to be placed into a nurturing campaign that slowly builds their knowledge and trust in your brand until they're ready to buy.
This is why it's important to track what campaigns your leads come from, and then segment them in your email service or marketing automation platform (Hint: Picreel does this automatically for you!)
Once you feel confident that the right message is going to the right people, you can start fine-tuning your email elements for better engagement.
Boost Opens With Solid Subject Line & Preheader
You've heard it a million times, and it really is true that your subject line is the make it or break it part of your email.
Remember, more than half of all emails are opened on a mobile device. Keep your subject short – less than 5 words. And, take advantage of the preheader – the description or "preview" of the email – which tends to be more prominent on mobile.
Here's what we mean by that. This is an example of a great subject line and preheader. Check out the exact same email preview on laptop and on a mobile device:
Laptop subject & preheader:

Mobile subject & preheader:

More of the preheader shows on a mobile device. Just 9 more words, but the reader has far more insight into the email's message: family drama recommendations to watch if you're feeling empty and at a loss for what to watch following the series finale of GOT.
Now, take a look at a subject and preheader that fell a little flat:
Laptop subject & preheader:

Mobile subject & preheader:

In this case, the subject line was too long and got cut off in mobile (but it did look great on a laptop!) Unfortunately, a preheader was not specified, so the mobile email client automatically pulled the first line of the email — which basically says the same thing as the subject. This brand missed an opportunity by not optimizing their email for desktop and mobile. A shorter subject line, and a more detailed preheader, could have tipped the scales in their favor on mobile.
For example:
Subject: Openings in next week's camps!
Preheader: Sign up now for Ocean Science and LEGO Engineering camps!
Still not sure where to start improving your subject lines? This article from Campaign Monitor has some seriously meaty morsels and best practices for writing solid subject lines.
Once a lead opens your email, it's time to entice them to click through.
Boost Click-Throughs With A/B Testing
Success! Once your email is opened, what you present to readers will determine whether they read on and click through, or jump ship.
One of the best ways to boost click-throughs is by ongoing testing. Even if you think you have all the right elements in place, if your click-through rate is poor, something isn't clicking with readers. Making small changes and A/B testing the same email will tell you what your audience prefers.
In general, look at these elements of your email:
Design – A consistent brand image is critical in email marketing. Create templates to use for your emails; you may have one for product recommendations, and a different one for a special sale or promotion, for instance. But when they open, readers should instantly recognize they're both from you. Logo placement, fonts, background and box colors… everything should fit into your overall brand design strategy.
Old Navy does a great job at this. Even when their emails are promoting a different item or different promotion every day, as soon as readers open the email, they instantly recognize the ON "brand."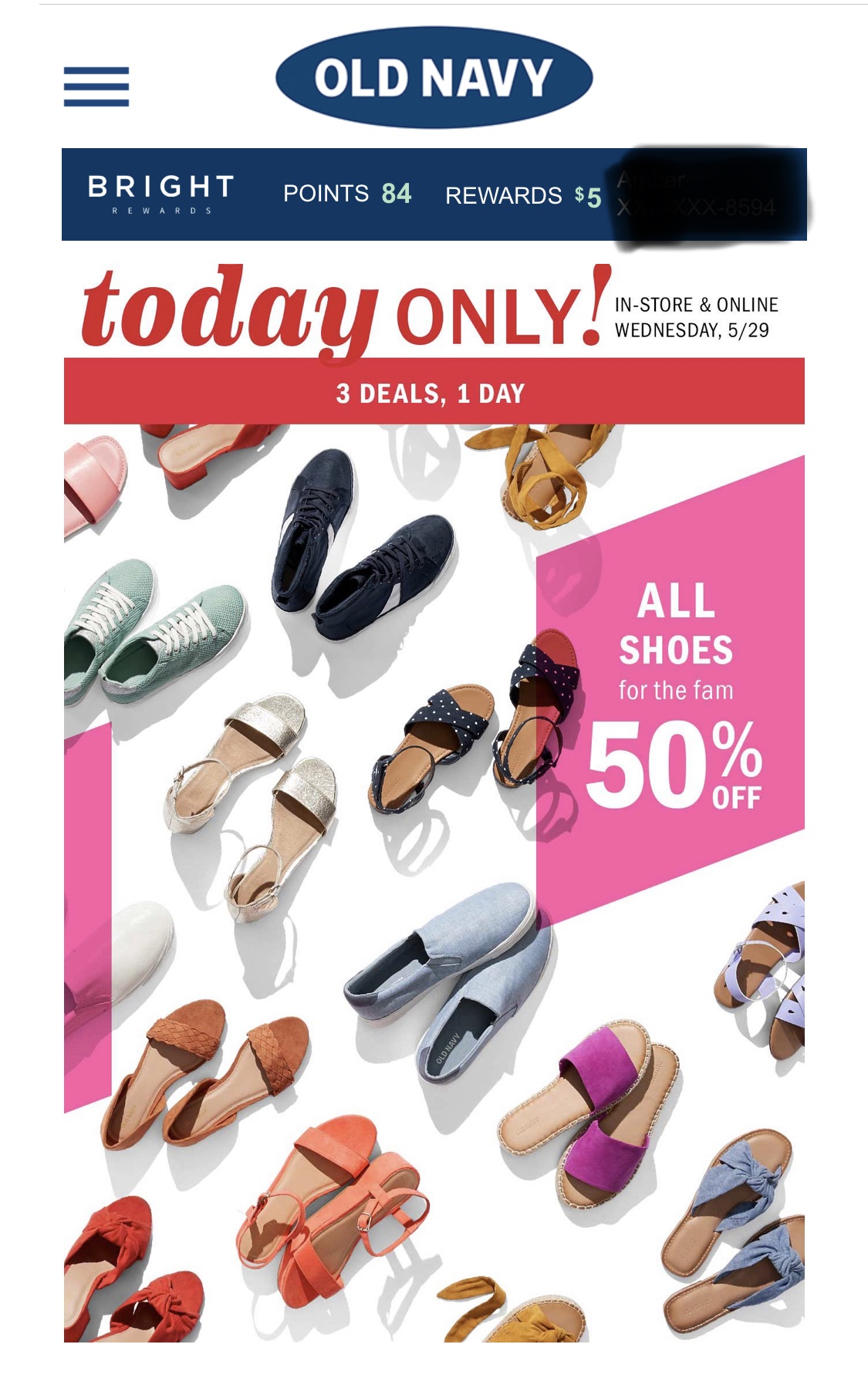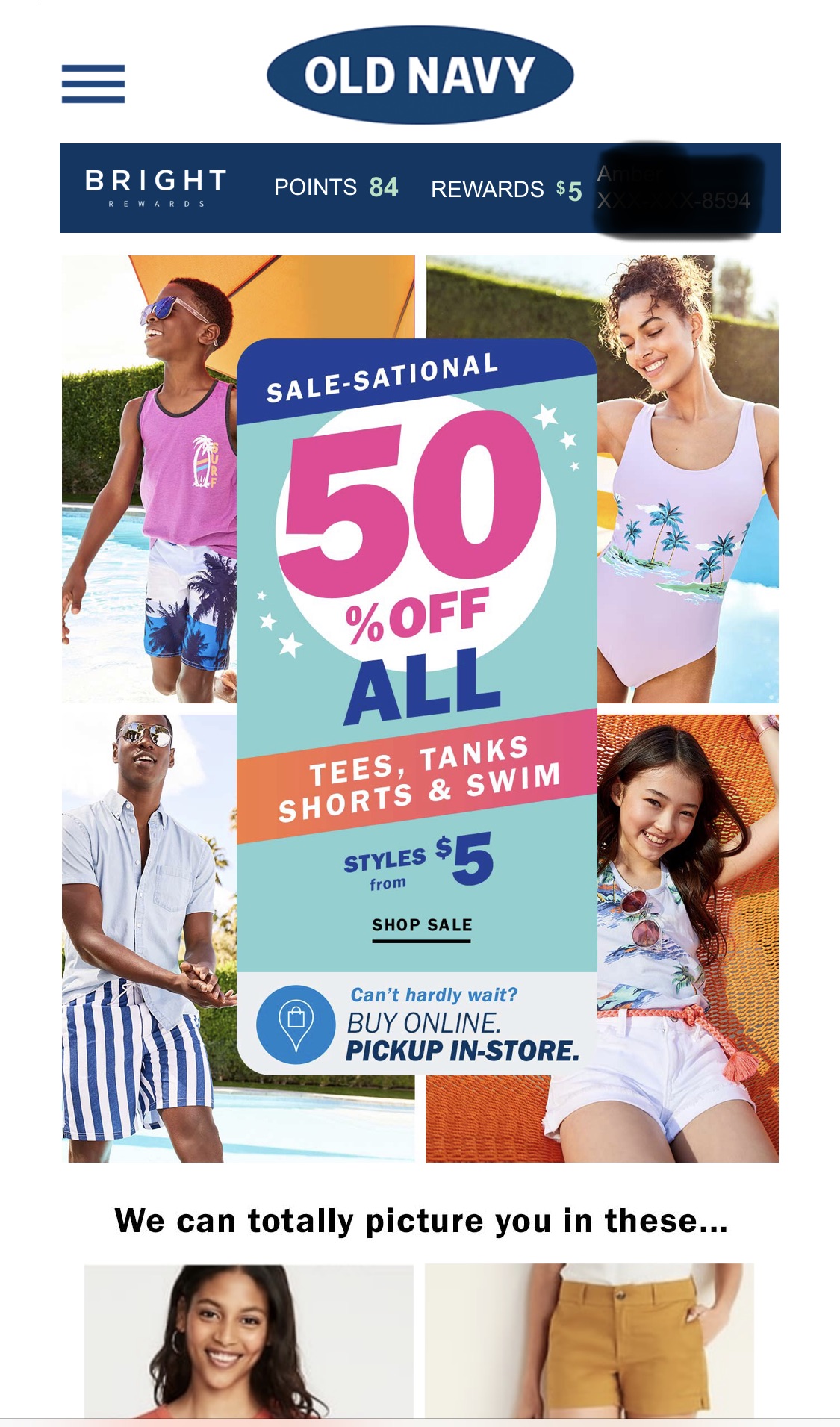 Copy – K.I.S.S! Keep It Super Simple! Readers have very short attention spans. Resist the urge to include long blocks of copy. Even with newsletters, break up your sections with colored blocks and images, and write short "teasers" that link to content elsewhere. Not only will this keep readers' attention and help them move through the copy, but a well-written teaser can significantly increase click-throughs to your site!
Personalization – While not applicable for every industry or brand, personalized content has been shown to increase reader engagement. This goes hand-in-hand with being relevant and showing readers content they'll find truly useful and valuable. If you're a retailer, it's an easy thing to track browsing and purchases to send personalized product recommendations. An SaaS might personalize emails based on the type of content or emails a lead has previously engaged with. I.e. if a lead has opened an invitation for a demo email twice, but hasn't clicked or acted, a personalized offer could be sent for 20% off their first year when they schedule a demo and sign up within a specific time frame.  
Once you've got readers to click through, the final conversion happens on your website.
Boost Conversions With A User Experience Audit
Before ever hitting send on your email campaign, you need to make sure your website is ready to handle traffic and conversions. Most calls to action from an email will route leads to a few common pages:
Product pages

Landing pages for services

Shopping cart (promo code or product already added)

Pricing, demo or trial pages

FAQ pages

Blogs, whitepaper, case studies and other digital assets
Once here, you want to make it EASY for visitors to convert on your offer or CTA.
Keep landing page forms as short as possible – only collect the data you need for the next step. You can always collect more data later, but if you turn visitors off with a lengthy form, you'll lose the chance altogether.
Likewise, conduct an audit of your checkout process before your emails go out to ensure a smooth, hassle-free process. While the main reason people abandon carts is simple: they're just window shopping and not ready to buy, the second reason is problems at checkout. Perhaps the shipping costs and speed, when revealed, are unsatisfactory. A simple solution is to make shipping information available before a shopper gets to checkout; or, provide multiple shipping speed and pricing options so they can choose.
Another reason shoppers abandon carts is because their preferred payment method isn't available. In a time when identity theft is a top concern for consumers, retailers are wise to offer alternate payment methods such as PayPal, Apple Pay, and Visa Checkout that protect shoppers' personal information in a transaction.
Those pricing, demo and trial pages need to be totally ready to handle requests. Your pricing page should be crystal clear – if there are additional fees on top of monthly rates, don't hide it in the fine print. Your demo page should set expectations (when demos are scheduled, how long they take, if there is any obligation following a demo, etc.), and have an easy one-click option to schedule a demo. Your trial pages should make signing up EASY. Consider foregoing the credit card requirement, and instead create an email drip campaign that will remind users their trial is about to expire and to sign up soon. People appreciate not having to remember to cancel a trial, and no one likes automatically getting charged for a subscription they didn't intend to keep!
Bottom line: before you ask someone to open, click, and take some action from your email, consider the entire experience from their perspective. Tweak your subject lines and preheaders, create easily-recognizable and aesthetically-pleasing designs, and then make it easy to convert on your offer once your website. When your message is relevant and all the right email elements are in place, you're guaranteed to see a boost in engagement!
Your Turn!
What changes to your email marketing strategy have you made that resulted in more opens, click-throughs and conversion? Share your tips in the comments below!