Editor's note: This story was originally published in May 2016. It has been updated for accuracy and comprehensiveness.
What's the definition of frustration for e-commerce website owners? Potential customers leaving a page without a trace of engagement! What's even worse is seeing it happen over and over again and feeling like there's nothing you can do about it.
That's undeniably frustrating.
What's even more frustrating, is knowing how hard you work to bring in traffic and provide an outstanding user experience only to see your efforts fall short. Not even that great exit popup you got for your site seems to be able to change visitors' minds.
Or can it? It's easy to fall into the trap of thinking there is nothing else you can do to engage traffic and convert visitors into consumers, but I beg to disagree. Many of the same conversion rate optimization (CRO) practices used in website design work equally as well for exit popups.
Here are 9 proven effective CRO practices that you can use to set up and optimize your exit popups:
1. Keep it simple
The less cluttered your offers are, the more likely they are to convince and convert customers. Remove unnecessary images, fields, and texts. Ask yourself: Do I need these to achieve my goal? If not, then it has no business being there – no pun intended.
2. Be clear and concise
Online consumers are impatient. They want to get as much information as they can in the shortest amount of time possible. If they cannot easily get that out of your website, off they go. The same applies for exit popups.
So what can you do to prevent visitors from leaving too quickly?
Be clear and concise.
Make your headline as clear as possible and do not leave potential customers guessing. Even adding a single word can bring clarity to a headline and do wonders for your exit popup conversion rates.
3. Deliver
Of course you are focused on conversions, but don't let that be your sole focus. Your focus should be on increasing conversions AND delivering on your product promises. Delivering on product promises builds your credibility and will go a long way toward impressing new customers.
Think about how many times you have been promised something awesome only to be underwhelmed when you finally saw the product. Even one time is one time too many for most of us and once we have been burned by a company, we almost never give it a second chance. Underwhelming your customers is something online entrepreneurs should avoid at all costs.
Conversions are just one step in the customer relationship. Don't neglect the other steps. If you deliver on your promises you will build loyalty, repeat business, and possibly gain referrals.
4. Ask questions
Asking questions is one of the simplest and most effective ways to invite the audience to participate. But this highly effective conversion rate optimization technique is not used nearly enough in exit popups.
If ever there was a place to use this strategy, it's an exit popup. Exit popups are your last line of defense; your last chance to convert a visitor. What can it hurt to toss out a question that may get them thinking, keeps them on the page a bit longer, or prompts them to reach out for more information?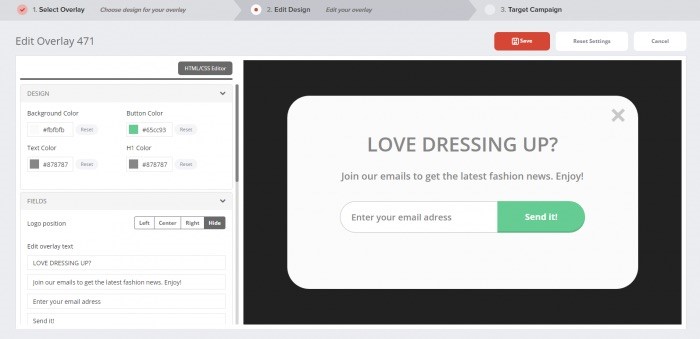 5. Use consumer psychology
The human mind is a wonderful thing. It's also incredibly predictable because it reacts in patterns. What if you can tap into the mind of your customers and use it to your advantage? Sounds like sci-fi, Inception-type stuff, right? But you can actually do this!
Start using the oldest sales trick in the book – MISDIRECTION – and apply it to your exit popups. The formal psychology term for this is called Neuro-Linguistic Programming (NLP).
Here's how to do it: break free from the standard sales pitch formats. Everybody uses them and they've become so commonplace that they are boring – and that makes them easy for our minds to pass them over (i.e. ignore them).
When it comes to popups, the same concept applies. If you do what everyone else is doing, you'll start to blend in, so don't do that!
Focus on creating something that makes your exit popups different from others.
Use words, questions, and offers that visitors don't expect from an exit popup. Use pro-active verbs that grab their attention, not bland, overly-used copy that they have seen thousands of times before. On that note, exit offer providers like Picreel provide a large variety of popup designs to make it easier for you to create unique offers.
6. Consistency
Yes, we want to throw users off their game and find ways to let their guard down but that does not mean we should go too crazy in our exit popups or you risk alienating people. It's like when you offer someone food and they refuse. Instead of "Do you want something to eat?", it's better to ask, "Are you sure you don't want some steak?" That's a more focused question that states what there is to gain: steak.
The same principles apply here:
Stay true to the theme and the product.
Maintain what you were pitching all along.
Let it show in your exit intent offers.
Keep the user focused on what they can gain instead of blurring the lines between the popups and the product.
For example, here is a copy from Picreel home page as we sense someone is about to leave the site. It communicates the same message that's in the header of the site.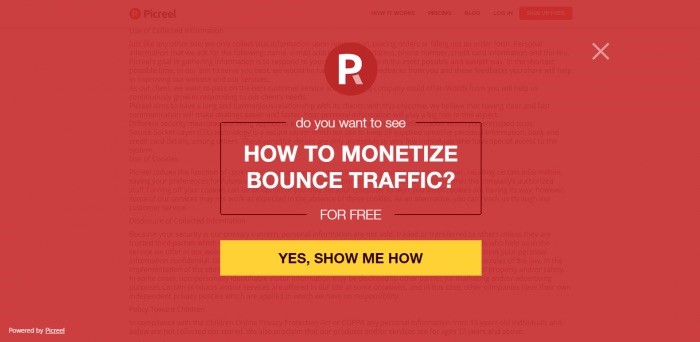 7. Guide your users
You can influence whether users decide to convert. You can do that by simply highlighting, or making more visible, the choice that you want them to make in your exit popup copy. "Yes, I want to learn more about X product or service. Sign me up!"
Another technique is by creating a NEGATIVE call to action (something fun and lighthearted) that would make them feel funny about having to reject your offer like "No, I don't want to save money."
However, make sure that your exit popup doesn't look rude. You want to treat users with respect and avoid aggressive messaging.
8. Use Targeting
People visiting your website have a variety of reasons for doing so. Think about the reason for the visit when you are creating your popups. It is imperative that the RIGHT people hear the right message. Otherwise, it falls onto deaf ears.
How can you apply this to popups?
Create an exit popup that is specific to that area of your site.
For example, if a user exits during the e-commerce part of your website what does that tell you? Maybe he wanted to buy something but something threw him off and he exited the page. What can you do? Why not offer a discount if they buy now or a future discount in exchange for their e-mail?
That's why we've made it easy to choose where to display your popups with numerous Picreel targeting options.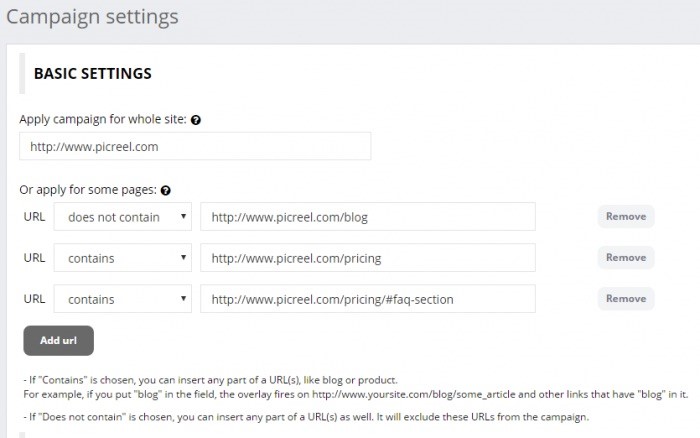 Just to be clear, you NEVER want to put something in the exit popup overlay that has nothing to do with what they are reading or doing. Be consistent and make sure the popups are relevant to the content. The easier they can relate to the popup, the better your chances of getting a positive result, in other words – a conversion.
9. Run tests
Not running tests is one of the most critical mistakes you can make. Nothing can replace real time testing to know whether the changes you implement work or not. You cannot simply rely on case studies that have been researched on the web and expect them to automatically work for your site. Remember, what works for others might not work for you!
There are a number of services that offer A/B and split tests so feel free to use anything that you feel comfortable with. You can also run different A/B tests in Picreel. This can help you decide which colors have positive conversion effects, where to put the Call to Action button, and trivial matters that aren't so trivial like fonts, font size, etc.
Want to learn more about A/B testing? Check our latest article.
That's it!
There you have it! 9 conversion rate optimization techniques that you can try with your exit popups.
Before you go, I'd love to hear your thoughts and comments below! Set up and optimize your exit popup and share your result. If you're running a popup now, tell me how these principles are working for you.
Good luck!
Do you want instant 300% growth?
Picreel popups can get YOUR website 300% instant sales growth. See Case Studies.